Donny Deutsch Starts The Mitt Romney Birther Movement: 'What State Is Romney From?'
Donny Deutsch Starts The Romney Birther Movement: 'What State Is Romney From?'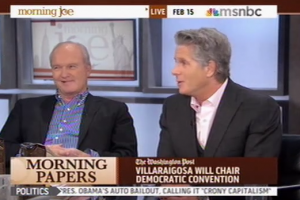 On Wednesday, the Morning Joe panel tackled the issue of Mitt Romney and his slipping poll numbers, citing a lack of authenticity in his message as a possible reason he's currently caught in a bit of a tailspin.
Tina Brown, editor of Newsweek, admitted that she was actually feeling bad for Romney, as he thought he was going to campaign on the economy, "but, in the end, his base doesn't want that. The base would rather talk about social issues and driving towards Santorum and he's sort of left without his issue and campaigning also in Michigan, which has worked — where the bailout has worked."
At that point, Donny Deutsch brought up a question that seemingly has been gnawing at him for some time:
"Joe, help me out," Deutsch said. "What state is Romney from?"
"He was born in Michigan," host Joe Scarborough responded.
"And…where else?" Deutsch asked. "Aren't there a bunch of states? I keep getting confused."
"He lives in Massachusetts," Scarborough offered.
"And isn't there a Utah thing going on there?" Deutsch continued. "A New Hampshire thing going on there?"
"Wait," co host Mika Brzezinski asked, "what is your point?"
"My point is, going back to the authenticity of Rick Santorum," Deutsch responded, "how many states has Mitt Romney walked into and declared somehow he's the son of that state?"
"That's the most ridiculous thing I've ever heard," an annoyed Brzezinski replied, leading to a heated exchange between her and Deutsch.
"What are you talking about that's the most ridic– I'm serious, that's not ridiculous at all!"
"That's ridiculous"
"What's ridiculous about it?"
Scarborough, trying to restore order, attempted to steer the conversation back to politics. "Alright, David Gregory–"
"Because," Brzezinski interrupted, "if you have a wide breadth of experience living in this country it should enhance your knowledge of it."
"I'm not saying knowledge," Deutsch clarified, "I'm saying where is your birth state?"
Watch a clip of the exchange below, courtesy of MSNBC:
Have a tip we should know? tips@mediaite.com