Ed Rendell: Benghazi 'Won't Have Any Long-Lasting Effect' For Hillary, Maybe 5% Will Remember In 3 Years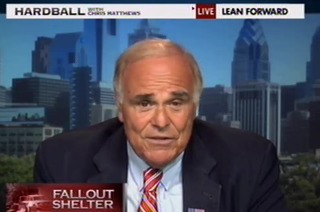 Appearing on MSNBC's Hardball, former Pennsylvania Gov. Ed Rendell was asked about the amount of impact the Benghazi scandal may on former Secretary of State Hillary Clinton's political career. Rendell said that there would be virtually no effect on her political career and that only 5 percent of the public would even recall the scandal by the time the 2106 presidential campaign begins in earnest.

Republican strategist John Fieri said that Clinton has to walk a tightrope in the coming months because the Benghazi scandal is more likely to be exploited by her fellow Democrats than by Republicans. "There are plenty of Democrats who want to be president and would be happy to throw Hillary Clinton under the bus," said Fieri.
Guest host Michael Smerconish played a web ad from Karl Rove's Crossroads indicting Clinton for poor management at the State Department during the Benghazi scandal.
"There are some controversies that are readily understood," Smerconish said. "Watergate: we all get that. We don't want our homes broken into."
RELATED: Sec. John Kerry On Week Of Revelations On Benghazi Attacks: 'I Really Haven't Learned Anything New'
"There are other controversies that are too confusing," he continued. "Whitewater fell into that category, in my view. Where does Benghazi fall in that spectrum, if you buy into it."
Rendell responded to the attack ad by saying Rove had "lost his mind."
"Karl, get a life. Take up tennis or do something," he suggested.
"Hillary Clinton's stint as Secretary of State should be like a pitcher who had 20 wins and two losses," Rendell continued. "Her record was almost perfect in the eyes of the American people."
"And this won't have any long-lasting effect," the former Pennsylvania governor asserted. "I guarantee you: three years from now, if Hillary Clinton is a candidate, less than 5 percent of the American people will remember this."
Rendell conclude by saying that there was no cover-up in Benghazi and the scandal, as he sees it, "is all about spin."
In 2008, Rendell served as a surrogate for Clinton's 2008 presidential campaign.
Watch the clip below via MSNBC:
> >Follow Noah Rothman (@NoahCRothman) on Twitter
Have a tip we should know? tips@mediaite.com