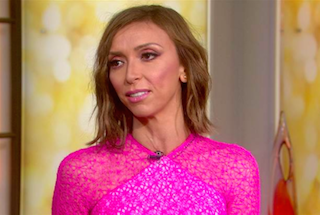 Back in February, Fashion Police host Giuliana Rancic delivered an emotional on-air apology following a comment she made about Disney channel star Zendaya's dreadlocked hair. In a post-Oscars show, Rancic had suggested that the actress' hair "smells like patchouli oil" or "weed," drawing accusations of racism from viewers as well as from Zendaya herself.
"I want to say to Zendaya, and anyone else out there that I have hurt, that I am so, so sincerely sorry," Rancic said at the time. But during an interview with the Today show's Savannah Guthrie Monday morning, the E! host struck a slightly different tone, saying that more than anything else, it was the editing of the segment that was at fault.
"It's something I want to be really clear about, because I've never really spoken about it," Rancic said. "You know, I made a reference to the hippie culture. I talked about patchouli oil, which is a hippie perfume. And in the editing process, some of the gestures I made, some of the things I said were taken out for time. I made peace signs, I said 'bohemian' twice — those were taken out for time. So when the joke aired, some people were offended by it."
Rancic also noted that of the 40 people present at the show's taping, "Not one person said anything." If anyone else had thought the comment would be taken the wrong way, they could have edited it out of the show that aired. "The editors, the producers, no one saw anything wrong because when they heard the joke, it was truly a joke about the hippie culture," she said.
Zendaya did not view the joke as being about "hippie culture," describing the comments as "ignorant slurs" in her statement on the matter. She received quick support on social media from figures like Kerry Washington and Ava DuVernay. And it was Rancic's comments that may have led directly to the departures of co-hosts Kelly Osbourne and Kathy Griffin from Fashion Police in the following weeks.
RELATED: Whoopi Blasts Giuliana Rancic for Anti-Dreadlocks Commentary
"I find racism reprehensible," Rancic added. "I don't tolerate it at all. Nor have I ever. I think that's really important for me to get that out there, because that's been the hardest part of all of this — that someone could believe that I actually … would have racial undertones in the things that I do. Absolutely not."
"I see why people took offense," she admitted. "I thought that the joke was not edited in the proper way, and that's just something I have to live with. It's very important for me to just get out there and tell the real story, and I knew I would have my moment. But those darn headlines were so crazy for so long that I thought, 'Let everything calm down, and then I can come out and tell the real story.'"
Watch video below, via NBC:
Visit NBCNews.com for breaking news, world news, and news about the economy
[Photo via screengrab]
— —
>> Follow Matt Wilstein (@TheMattWilstein) on Twitter
Have a tip we should know? tips@mediaite.com