'Eww-O-Meter': John Oliver Delivers Epic Takedown Of 'Gross,' 'Revolting' 'Pervert' Mayor Bob Filner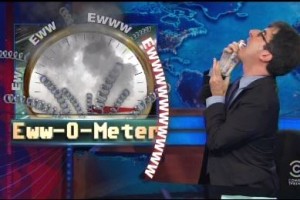 John Oliver tonight scraped the bottom of the political barrel to shame Anthony Weiner and his "New York, I don't know how to quit you" video, as well as San Diego mayor Bob Filner, whose behavior was so revolting and disgusting, Oliver had to literally drink a bottle of Purell to make himself feel clean again.


Oliver mocked Weiner for bragging in a new video that quitting is not how New Yorkers do things, shouting at him, "You are not 9/11ing your dick pics! No! No! There is a line, and you just went over that line!"
Oliver recommended Weiner get a communications director to handle the messaging better, but… well, that hasn't really worked out. Oliver realized that Weiner can't fire her, because he now officially "has no standing to punish anyone for anything anymore!"
Oliver then turned to "pervert" Filner in San Diego and used a "Eww-O-Meter" graphic to chart various levels of Filner's awfulness. He said that at least with Weiner, "his texts don't leave a physical residue on your face." When one woman described how Filner asked her to come to work without wearing underwear, Oliver squirted Purell directly into his mouth.
But Oliver found it truly offensive that Filner is asking San Diego citizens to foot the bill for his sexual harassment lawsuit. He recommended that instead, Filner's "better off trying to raise the money on Prickstarter."
Watch the video below, via Comedy Central:
—–
Follow Josh Feldman on Twitter: @feldmaniac
Have a tip we should know? tips@mediaite.com
Josh Feldman - Senior Editor