Former CIA Officer Battles 'Dummy,' 'Clown' Geraldo over New Clinton bin Laden Tapes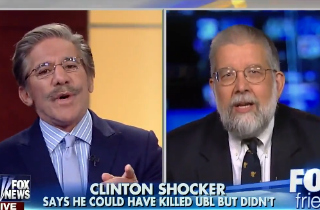 On Fox News Friday, Geraldo Rivera got into it with former CIA official Michael Scheuer over newly surfaced recordings of former president Bill Clinton, in which he claims the day before 9/11 that he could have killed Osama bin Laden.
In the tapes, Clinton says the reason he didn't go in for the kill is that he would have had to "destroy a little town called Kandahar in Afghanistan and kill 300 innocent women and children, and then I would have been no better than him (bin Laden)."
Scheuer, identified as head of CIA's bin Laden unit 1995-1999, disputed Clinton's recollection. He said the attack on bin Laden "would have occurred in the middle of the night" and "it would have killed no one but Taliban people and Osama bin Laden and his crew."
Scheuer took a shot at Clinton, saying, "if you looked up the word 'lie' his face (Clinton's) would be right next to it." He also claimed that he was fired from CBS after he bad mouthed Clinton.
Rivera was then brought in to discuss. He said Scheuer is "mixing and conflating intelligence with his own ideological spin."
"So, what you have here with this gentleman who was dismissed by CBS by his own admission," Rivera said, "is an analysis on the military action. And then No. 2, he is spinning it for his own purposes."
What followed was a series of insults from Scheuer, who disparagingly called Rivera "a magazine guy," "a dummy" and a "clown."
Watch via Fox News:
[Image via Fox News/screen grab]
— —
>> Follow Eddie Scarry (@eScarry) on Twitter
Have a tip we should know? tips@mediaite.com