Former GOP Child Star Jonathan Krohn Calls Out Daily Caller, Fox News For Mocking His Political Evolution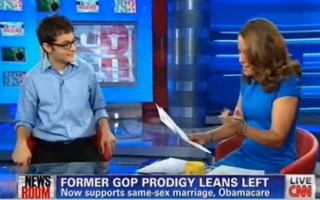 Former conservative prodigy and featured CPAC speaker, Jonathan Krohn appeared on CNN on Monday where he told anchor Suzanne Malveaux that he was disappointed by the reaction from conservative media to his announcement that he has embraced some more liberal views. In the interview, Krohn recalled some of the ad hominem attacks he has received from Fox News and The Daily Caller and fired some of his own criticisms back.

RELATED: Former Conservative Child Star Jonathan Krohn Is All Grown Up… And Liberal
Krohn was a featured CPAC speaker and conservative author at the age of 13. Now, at 17-years-old, Krohn says that he is wider read and more interested in a range of political philosophies which he says include some liberal ideas.
Krohn told Malveaux that the reaction his second political coming out received from conservatives was not particularly friendly.
"Conservatives haven't responded very nicely," said Krohn. "Some of the responses has been very vicious. The Daily Caller has been very mean. They said – one of their articles even said my glasses are thick-rimmed glasses so I deserve criticism for that. It's like a bully calling a kid 'four eyes' on the schoolyard is what it is."
"Fox News – on the Fox Five, said I should be left in the woods as a baby," Krohn added. "But the majority of responses have been very nice. Especially from the center and from the left, or more from the center-left as well."
Krohn said that he addressed a number of the criticisms he received in an opinion piece he published in Salon.com on Sunday in which he called out The Daily Caller in particular.
The Daily Caller, for instance, wrote three articles about my shift, topping it off with an opinion piece in which they stated that I deserved criticism because I wear "thick-rimmed glasses" and I like Ludwig Wittgenstein. Why don't they just call me "four-eyes"? These are not adults leveling serious criticism; these are scorned right-wingers showing all the maturity of a little boy. No wonder I fit in so well when I was 13.
Watch Krohn's interview below via CNN:
> >Follow Noah Rothman (@Noah_C_Rothman) on Twitter
Have a tip we should know? tips@mediaite.com