Fox Anchor, GOP Rep. Accuse Obama Of Focusing On Reelection Instead Of Saving Lives In Benghazi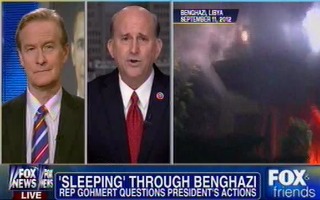 Appearing on Fox & Friends on Monday with Fox News Channel anchor Steve Doocy, Rep. Louie Gohmert (R-TX) accused President Barack Obama of failing to provide Congress with a full accounting of his activities on the night of the deadly attack on an American consulate in Benghazi. Doocy agreed with the GOP representative, saying that the information that has been revealed in the months since the attack led him to believe that Obama's top priority at the time was his reelection and not saving the lives of American diplomatic and military personnel.

RELATED: John McCain: Benghazi Misinformation Is Result Of Cover-Up, An 'Unqualified' Commander In Chief, Or Both
"There was no 3 a.m. phone call," said Doocy, "the president did, however, have a phone call at 5 o'clock in the afternoon."
Gohmert confirmed that Obama was briefed on the events in Benghazi at 5 p.m. on the day of the attack, but he is unclear if the president received any further briefings while the attack was ongoing.
"Steve, how many times have you told people, 'look, I'm going to stay up, you call me when you get there because I want to make sure you're all right?'" Gohmert asked. "I mean, nothing like that. It' just incredible."
Gohmert said that the president may have been focused on a campaign appearance he was set to make the next day in Las Vegas. "I'm sure he wanted to look good for that, for heaven's sake," Gohmert added flippantly.
Gohmert asked rhetorically why the president would commit American military resources to helping topple Muammar Gadhafi, but would not do the same to save the lives of endangered service personnel.
"We want to know all the details, but the White House – they're in no hurry to let them out, because, thanks to a compliant news media, nobody really is talking about this story except us and you," Doocy said.
Gohmert said that he has been unable to interview anyone who witnessed the attack live, but quoted a Fox News report which indicated that members of the administration were able to monitor the attack as it was ongoing via air assets.
"I think what we're learning, unfortunately, is at that point the priority of the White House and the president was to get reelected because we were just outside of that big November election," Doocy said.
Watch the clip below via Fox News Channel:
> >Follow Noah Rothman (@NoahCRothman) on Twitter
Have a tip we should know? tips@mediaite.com