Fox & Friends Goes After CBS Political Director For Column Asserting Obama Should 'Pulverize' GOP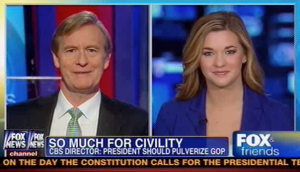 The "liberal media bias" alert went off on Fox News this morning, when Fox & Friends took on John Dickerson, who is the political director for CBS and a political correspondent for Slate. Tearing into Dickerson's recent column — in which he argued President Obama should "declare war" on the GOP — the segment highlighted the "conflict of interest."
In the Slate piece entitled "Go for the Throat!" Dickerson argues that "if he wants to transform American politics, Obama must declare war on the Republican Party." He writes:
As Obama explained in his last press conference, he thinks the Republicans are dead set on opposing him. They cannot be unchained by schmoozing.
[…]
Obama's only remaining option is to pulverize. Whether he succeeds in passing legislation or not, given his ambitions, his goal should be to delegitimize his opponents. Through a series of clarifying fights over controversial issues, he can force Republicans to either side with their coalition's most extreme elements or cause a rift in the party that will leave it, at least temporarily, in disarray.
"Are you surprised that this member of the mainstream media who is supposed to be unbiased sounds like a Democratic strategist?" Steve Doocy asked Townhall's Katie Pavlich.
It's not surprising, she replied, pointing out the "conflict of interest" given that Slate is a "far left" outlet. She further pointed out that another CBS reporter, Jan Crawford, was among those caught on a hot mic apparently coordinating questions for Mitt Romney. "Clearly there's a problem at CBS," Pavlich said. "They're being biased in their reporting." But it's hardly the first time.
While it is an example of media bias, Pavlich said at least Dickerson's bio is honest in reflecting that he works both for CBS and Slate. Both she and Doocy questioned how he could do both, if he is indeed supposed to be an objective political director for CBS.
"I guess he just wants one party," Doocy said of Dickerson, "which would essentially make it a dictatorship."
Doocy then went on to criticize Dickerson's column for avoiding mention of the "do-nothing Democrats," while placing all the blame on the GOP. Agreeing, Pavlich said that while Obama was re-elected, so were many congressional Republicans. And our political system is set up so that Obama needs the Republicans for his second-term agenda.
Watch below, via Fox News:

Have a tip we should know? tips@mediaite.com