Fox & Friends Guest Blames Obama for Ariana Grande and Unpatriotic Millennials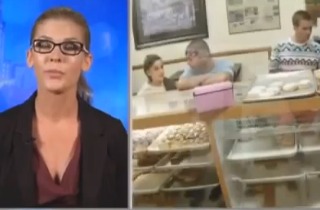 On the Thursday morning episode of Fox & Friends, everyone was fuming about Ariana Grande, who was captured on video licking donuts at a shop and saying "I hate America."
Grande has since apologized for her remarks and said that her words were taken out of the childhood-obesity context she was going for, but the show hosts said that it was clear evidence that millennials are unpatriotic on principle, and President Obama is to blame.

Outdoor Channel host and former Miss Kansas Theresa Vail said she was "disgusted" by Grande's "lack of decency" to her own fan base, and dismissed her apology as a maneuver to save her career, which Steve Doocy previously described as "on the ropes."
"I don't care what context she said that was meant in," Vail said. "She should know as a public figure that everything you say and do is taken at face-value. Perception is reality for the public."
Co-host Brian Kilmeade also got in on the discussion by blasting Grande for making the decision to walk into the shop and using that as an opportunity to make comments about the entire country. Vail said that she did not know what the solution to the problem was, but speculated as to what was truly the root of all evil on this issue:
For the past six or seven years — and that's a good chunk of a millennials' adult life – we've had a president who doesn't believe in American exceptionalism and doesn't speak up for the American values this country was built on. Can you blame millennials for their modicum of patriotism when for the majority of our adult lifetime, we have not witnessed anything to make us think differently?
Vail concluded by saying that Grande acted like an entitled diva with no sense of gratitude, and expressed her hopes that she loses fans from the incident.
You can watch the segment here, via Fox:
[h/t Raw Story]
[Image via Fox/sreencap]
— —
>> Follow Ken Meyer (@KenMeyer91) on Twitter
Have a tip we should know? tips@mediaite.com