Fox Hosts Hammer Jay Carney For Deeming Benghazi 'Old News': 'No Statute Of Limitations On Murder'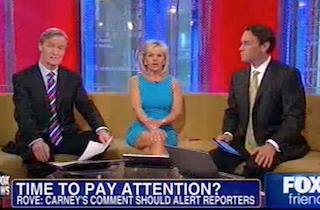 The Accountability Review Board, which looked into the State Department's handling of Benghazi, is getting its own review. Fox & Friends took note of that development on Friday morning, particularly criticizing White House Press Secretary Jay Carney for saying the attack happened "a long time ago" when he was asked about it. "Did he just say that?" Gretchen Carlson asked.
For background, the news of the new review, per CNN:
The office of the State Department's inspector general is doing a special review of the "effectiveness and accountability" of the Accountability Review Board (ARB) process, according to Doug Welty, a spokesman for the IG's office.

Along with reviewing the board in general, the inspector general will do a subsequent audit of the board's investigation of the deadly Benghazi attack, which is done as a matter of course after every probe.
Clayton Morris reported the "bombshell," asking, "Were key witnesses basically told to keep quiet? To not come forward? Were their testimony ignored in that State Department review?"
Later in the segment, the hosts revisited Carney's recent response when he was asked whether witness were told to remain mum on the matter. "This is not old news," Morris asserted.
"Wow," Carlson chimed in. "It was one of those moments where you take breath back and go, 'Wait a minute, what did he just say? That's old news?' I don't think it's old news to the four families who lost people in that attack and still don't have the answers. Those are the people that I think about when I think about this story."
"There is no statute of limitations on murder," Steve Doocy stated.
Watch below, via Fox News:

Have a tip we should know? tips@mediaite.com