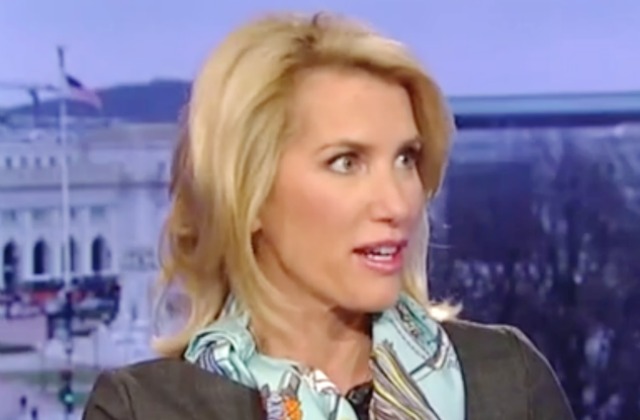 Fox News has confirmed that Laura Ingraham is set to host a primetime show on the cable news network, called The Ingraham Angle, which will debut October 30.
The conservative firebrand, known for her syndicated radio show, frequent appearances on Fox News, and support for President Donald Trump, will take over Sean Hannity's 10 P.M. time slot.
Per a Fox News press release (read below), Hannity will move to 9 P.M. on September 25, and The Five will move from 9 P.M. back to 5 P.M.
10 P.M. "will be helmed by rotating hosts during the interim period," per the release.
Ingraham is a frequent guest on Fox & Friends and Hannity, as well as Fox News' other flagship shows, touting a populist message that plays well with Trump's base: anti-immigration, anti-globalist and nationalist and isolationist.
As CNN's Brian Stelter and Hadas Gold reported last week, the reshuffle of Fox News' primetime lineup comes after Eric Bolling was canned from the network amidst sexual harassment allegations, which led to the cancellation of his 5 P.M. show The Specialists.
The Five, at 9 P.M. since Fox News' last primetime reshuffle (after Bill O'Reilly was fired amidst another slew of sexual harassment allegations), will replace The Specialists to return to its original time slot at 5 P.M.
Matt Drudge took to Twitter on Monday for a rare few tweets confirming CNN's reporting of Ingraham's new gig, hours before Fox News made it official.
Such a drastic change in Fox News' lineup is undoubtedly a risky move for the network, which has remained atop the ratings pile despite facing a never-ending deluge of controversies.
But Ingraham is well liked amongst Fox News' audience, and harbors political views and a style similar to Hannity, who she will replace at 10 P.M. Hannity, for his part, will be pitched against MSNBC's Rachel Maddow at 9 P.M., which is sure to spark something of a ratings war between the two anchors.
Read the full press release, via Fox News, here:
LAURA INGRAHAM TO HOST THE INGRAHAM ANGLE
WEEKNIGHTS AT 10PM/ET
ON FOX NEWS CHANNEL

Hannity Moves to 9PM/ET and The Five Returns to 5PM/ET Timeslot

NEW YORK — September 18, 2017 – FOX News Channel (FNC) has named Laura Ingraham as the host of The Ingraham Angle, a new live primetime program to debut on October 30th, announced Suzanne Scott, president of programming for the network. Ahead of Ingraham's debut, Hannity, hosted by Sean Hannity, will move to the 9PM/ET hour, the ensemble program The Five will return to the 5PM/ET timeslot, while the 10PM/ET hour will be helmed by rotating hosts during the interim period. Each of these changes will take effect on September 25th.
In making the announcement, Scott said, "We are delighted to unveil this new primetime schedule for both our current and future generation of loyal FNC fans. Over the last decade, Laura's extraordinary insight, expertise and strong voice have connected with our viewers across the network's programming. We look forward to her providing the audience with her exceptional commentary, engaging insight and spirited debate."

Ingraham added, "After a decade working at FOX News with a team of television pros, I am thrilled to be joining the primetime line-up as a host of the 10 o'clock hour. Martha, Tucker and Sean have proven that they understand the pulse of America across the political and the cultural spectrum. I look forward to informing and entertaining the audience and introducing new voices to the conversation."

The Ingraham Angle will aim to cut through the Washington chatter to speak directly with unexpected voices and the actual people who are impacted by the news of the day. Ingraham will challenge the decision makers to focus on everyday, hard-working Americans who serve as the backbone of the nation. The program will also highlight the importance of faith in our nation and reveal stories that showcase the American spirit.

Ingraham joined FNC in 2007 and most recently served as a contributor, providing political analysis and commentary to FNC's daytime and primetime programming. She will continue hosting her radio program, The Laura Ingraham Show, where she is the most-listened-to woman in political talk radio on hundreds of stations nationwide. Two years ago, Ingraham also founded LifeZette, a political and cultural website, and will continue to serve as editor, although without a day-to-day operational role.

A graduate of Dartmouth College and the University of Virginia School of Law, Ingraham previously served as a litigator and Supreme Court law clerk for Justice Clarence Thomas. She is also the author of the New York Times bestsellers "The Hillary Trap," "Shut Up & Sing," "Power to the People," and "The Obama Diaries," among others.

FOX News Channel (FNC) is a 24-hour all-encompassing news service dedicated to delivering breaking news as well as political and business news. The number one network in cable, FNC has been the most watched television news channel for more than 15 years and according to a Suffolk University/USA Today poll, is the most trusted television news source in the country. Owned by 21st Century Fox, FNC is available in more than 90 million homes and dominates the cable news landscape, routinely notching the top ten programs in the genre.
[image via screengrab]
—
Follow Aidan McLaughlin (@aidnmclaughlin) on Twitter
Have a tip we should know? tips@mediaite.com
Aidan McLaughlin - Editor in Chief