Fox News Contributor Mary Katharine Ham Jumps to CNN, Makes Debut with Tapper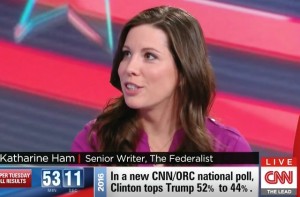 Fox News' Mary Katharine Ham parted ways with the network and joined CNN today, making her debut on The Lead this afternoon.
Hammer announced on her personal blog earlier today that she's joining CNN as a political commentator, giving a shoutout to friends at the network like S.E. Cupp and Amanda Carpenter.
Ham also expressed how grateful she was to be with Fox News for so long, especially her regular sparring matches with Bill O'Reilly:
It has been a professional honor and a personal pleasure to work at Fox News as a contributor for the last eight years. Over that period of time, I have forged friendships and built relationships with so many of my colleagues, both on and off the air. I am especially grateful to the entire team at The O'Reilly Factor, with whom I've worked — week in an week out — since the very beginning. I've often said that sparring regularly with Bill O'Reilly is the best communications boot camp on the planet. I am truly thankful to have been a part of Bill's massively successful program for such a long period of time, and that he gave me a shot so young. I especially loved my pairing with my friend Juan Williams, who is a class act.
On CNN this afternoon, Ham made her debut on a political panel and Jake Tapper welcomed her on board.
Ham helped break down what path forward––if any––Donald Trump's rivals have if he cleans up tonight.
You can watch part of Ham's debut appearance above, via CNN.
[image via screengrab]
— —
Follow Josh Feldman on Twitter: @feldmaniac
Have a tip we should know? tips@mediaite.com
Josh Feldman - Senior Editor