Fox News' Eric Bolling Invents Facts About Weekend Attack On Obama Headquarters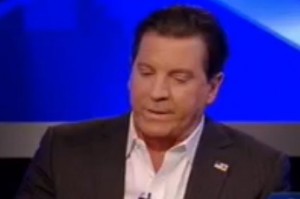 On Monday evening's edition of Fox News' The Five, as in-house Democrat and Tom Carvel impersonator Bob Beckel discussed the racist t-shirt that was photographed at a Mitt Romney event on Friday, co-host Eric Bolling chimed in with a story of his own. "Did you hear, over the weekend, the story about the kid on the West Coast who took the hammer to some Obama headquarters offices," Bolling said,"and it turns out he was a liberal, he's a very progressive liberal, and the speculation is he was doing it to make Mitt Romney look bad?"
There was an attack on an Obama headquarters over the weekend, but that's all Bolling got right.
Beckel began by denouncing the t-shirt that was photographed at a "Mitt Romney concert," before quickly correcting himself, although a Mitt Romney concert might be kind of a blast. Haven't you ever wanted to shout "Play Freebird!" when Romney starts in on tree heights and lovely lakes?
"It says 'Put The White Back In The White House,'" Beckel explained, adding, "I do not believe for an instant, for an instant, that there are any people who have racist tendencies for Mitt Romney, or a very small percentage."
"Then why are you showing it?" chimed in another co-host, to chuckles from yet another. None of The Five co-hosts seems to have ever visited their own network's website.
Beckel then suggested that people like the man in the t-shirt ought to be, "if not strung up," then shipped off to Gitmo. "I"ll tell you one thing. if your IQ is above a 60, I'd be amazed," he concluded.
Bolling took that as his cue to add in his two cents. "Did you hear, over the weekend, the story about the kid on the West Coast who took the hammer to some Obama headquarters offices," Bolling said,"and it turns out he was a liberal, he's a very progressive liberal, and the speculation is he was doing it to make Mitt Romney look bad?"
"I was making no connection to Romney," Beckel protested.
"It's like Munchausen Syndrome by political proxy," giggled another Fiver.
What actually happened over the weekend, in Denver, Colorado, not the West Coast, was that a gunshot was fired into an Obama campaign field office while campaign volunteers and staff were inside. The shot shattered a plate glass window on the front of the building, but thankfully, no one was hurt. Police are reviewing surveillance footage, and have said they are looking for a "vehicle of interest."
An incident similar to the one Bolling described did occur three years ago, and is a popular way for right-wingers to dismiss a pattern of violent opposition to the President.
It's telling that Bolling's first instinct, like many conservatives, was not revulsion at the racist t-shirt, or at the fact that there was no accompanying report about the man who wore it being excoriated by fellow attendees and ejected, but to make up a story about a serious incident in which people could have been badly hurt. This is the problem with conservative defensiveness about racism. Beckel is probably right, it is probably a small percentage (although large enough for Romney and his surrogates to make naked appeals to), but when Republican racism is called out, their first instinct is to circle the wagons, making their party a very comfortable place for the practice.
Update: 10/16/2012 Denver Police Detective John White now confirms, to Mediaite, that "we found one round inside the headquarters. No one was struck, no one was injured, and there's no one in custody yet. This is an active and open investigation."
Here's the clip, from Fox News' The Five:
Have a tip we should know? tips@mediaite.com