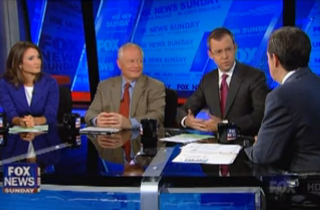 During today's edition of Fox News Sunday, the panel took on what some characterized as Mitt Romney's "clumsy" attacks on the Obama administration's response to the violent protests in Libya and Egypt, and then took on the various missteps they see in how the Romney campaign has conducted itself since announcing its vice presidential pick.
Liz Marlantes of the Christian Science Monitor said that Romney's aggressive response "did seem political and seemed like he was acting more in the interest of his campaign than acting in the interest of the Americans overseas who were in danger at the time."
She added that Romney seems to have difficulty articulating exactly what his foreign policy would be: "He has this sort of sweeping language about how he wants to project strength. If strength means military force and spending more money on foreign aid, that is not popular either. It is not clear are what his actions would be."
Neoconservative commentator Bill Kristol agreed with co-panelist Brit Hume that the Romney response was clumsy, but added that it is "better to be clumsy and correct than timid and silent."
Kristol also criticized the Republicans for not mentioning Afghanistan during its national convention, noting that the Democrats got a poll bounce after making frequent mention of the wars and the country's service members. He added that maybe American voters would "actually like to hear what the next president would do about this crisis."
The New York Times' Jeff Zeleny added that Romney has "failed to take advantage of the moment of the really three weeks since naming the vice presidential candidate and into his convention," and said that even Romney's advisors would concede that these haven't been the "smoothest" of weeks. However, he noted, major polls show a three-point margin in the race, meaning things are still close and "anything could happen."
Host Chris Wallace then asked why the Romney campaign seems so reluctant to give a major foreign policy speech. Zeleny surmised that Romney's team believes the election is still mostly about firing President Obama, but perhaps they are realizing it is time to address these issues and "kick things up a little bit."
"It seems a lot of Republicans are hungering for more of a reason to hire Governor Romney," he noted, adding to the reasons why the GOP candidate should give some sort of major foreign policy address.
Hume then chimed in that Romney has not effectively differentiated his policy ideas from Obama's. He's got the family man image down, Hume said, but Romney has yet to "dwell at length" about the nitty-gritty differences in policy.
Watch below, via Fox:
— —
>> Follow Andrew Kirell (@AndrewKirell) on Twitter
Have a tip we should know? tips@mediaite.com