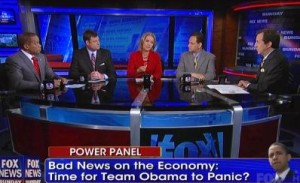 On Fox News Sunday today, Chris Wallace and the panelists discussed what strategies would be most effective for President Obama to go after Mitt Romney on, after multiple attempts to attack his private and public sector experience with mixed success. Combined with the latest grim numbers about the economy, Wallace asked if now is the time for the Obama team to start panicking and try to regain their edge.
RELATED: Chris Wallace Grills Romney Adviser On Romney's Job Creation Record As Mass. Governor
Chip Saltsman, who ran Mike Huckabee's 2008 presidential campaign, said that the Obama campaign appeared to jump quickly from "hope and change" to "hapless and confused." He noted how quickly the campaign shifted from attack to attack on Romney after some backlash over the Bain Capital attacks. And as for Romney supporters interrupting a David Axelrod speech in Boston, Saltsman described it as a "disaster of epic proportions."
Wallace pointed out a more recent faux pas by the Obama campaign, when they released a video featuring the support of millionaire mogul Anna Wintour on Friday, the same day when the latest job numbers came in. Juan Williams described the video as "someone who reeks of ornamental excess announc[ing] that the peasants can have a place at the table."
Williams did note, in response to Saltsman, that since Romney is now officially the Republican presidential nominee, the official general election mudslinging is now underway and the Obama campaign has been scrambling to find the right way to define Romney early on. David Brody, the chief political correspondent for CBN News, argued that the Obama campaign's best argument is to say that "Romney doesn't connect with voters" and portray him as an out-of-touch elitist.
But given the grim economic number released on Friday, Wallace asked the panel, "Is it time for the Obama campaign in Chicago to panic?"
RELATED: Bob Schieffer Clashes With David Axelrod Over Whether Obama Team Is Running Positive Campaign
The Hill's A.B. Stoddard agreed, adding that people are going to judge the economy most over the summer and decide who they would rather have in charge of it by November.
Watch the video below, courtesy of Fox:
Have a tip we should know? tips@mediaite.com
Josh Feldman - Senior Editor