Fox Panel Takes On 'Word Police' That Forced ESPN To Apologize For Musburger's Comments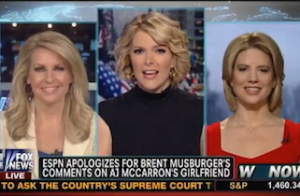 Fox News' Megyn Kelly invited two of her favorite female commentators on her show this afternoon to discuss ESPN's apology for announcer Brent Musburger's over-zealous praise of Katherine Webb, Alabama quarterback AJ McCarron's beauty contest-winning girlfriend.
After Musburger spent what some considered to be an inordinate amount of time praising Webb's beauty on air, the internet exploded with condemnation and ESPN released a statement that read, in part, "we apologize that the commentary in this instance went too far and Brent understands that."
Kelly began her segment by recapping the details of the story and asking her guests to "raise your hand if you think Brent went too far." Suffice it to say, no hands were raised. The three women proceeded to lambast the politically correct liberal media for dictating when men can and cannot call women beautiful.
Conservative radio host Monica Crowley exclaimed, "Here's what's wrong with a man calling a woman beautiful: Nothing!" She went on to say that if would have been more offensive if Musburger had said nothing.
Columnist Kirsten Powers added "He hardly said anything. He called her lovely and beautiful. People act like he was drooling and saying inappropriate things. To me, this is just Feminism gone awry."
Megyn Kelly reiterated that there's nothing perverse about commenting on a woman's beauty, asking "didn't we all admire her? We are not perverted."
And Crowley doesn't think open praise of beauty should be confined to just women. "When I'm watching the NFL and Tom Brady comes on screen, I have some choice words about him. He's such a hunk!"
Kelly summed up the story by lamenting the fact that ESPN felt pressure to apologize for something that should never have been a story to begin with. Noting that Webb put her beauty on display by competing for and winning the Miss Alabama competition Kelly said, "It's crazy to me that ESPN felt that he went too far in doing what all the judges at the competition did and millions of Americans did as well. I don't know a woman who doesn't like to be told she's beautiful."
For her part, Webb has not sought any sympathy in the aftermath of the remarks, appearing on the Today Show this morning and telling Matt Lauer she was simply "flattered."
Watch video below, via Fox News:
—
Editor's note: This post has been edited since its original posting – Jon Nicosia
>> Follow Matt Wilstein (@TheMattWilstein) on Twitter
Have a tip we should know? tips@mediaite.com