Fox's Beckel: Muslim 'Cowards' Go After Katy Perry but Stay Silent on Terrorism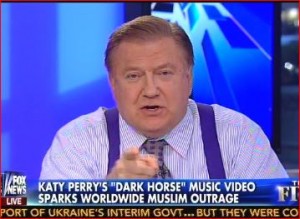 Bob Beckel was absolutely incensed today at how Muslims all over the world are absolutely outraged by a "blasphemous" Katy Perry music video but haven't said one word about Islamic militants massacring schoolchildren in Nigeria. There is currently a Change.org petition to pull the video from YouTube that currently has over 65,000 signatures because there is a scene that depicts a man with an "Allah" pendant who gets disintegrated at the behest of the Egyptian queen, Perry.


Beckel went off on the Muslim community for directing their outrage on the video rather than on violent acts of terror:
"What they're not petitioning worldwide to do is to protest the fact that 59 Christian kids were killed in their sleep by a bunch of Islamic cowards, and once again, not one of you––not one head of state of a Muslim country or cleric or imam has said anything. I'm not even gonna question it anymore, you're a bunch of cowards."
Beckel also went after the Obama administration for what he believes has been silence on the issue. Kimberly Guilfoyle added that people don't want to speak out because they're "too afraid of repercussion." Greg Gutfeld agreed, telling Beckel the White House won't speak out because they're "paralyzed by political correctness" and don't want to be seen as bigoted.
Eric Bolling called for some perspective, pointing out that Christians were bothered by Perry's witch imagery at the Grammys, but it didn't rise to the level of fury that's surrounding the new video.
"If your prophet wanted [the Nigerian massacre]," Beckel concluded, "you might want to look other places."
Watch below, via Fox News:
[photo via screengrab]
— —
Follow Josh Feldman on Twitter: @feldmaniac
Have a tip we should know? [email protected]
Josh Feldman - Senior Editor