Fox's Brit Hume: If Gun Control Couldn't Pass After Newtown, It Won't Pass Now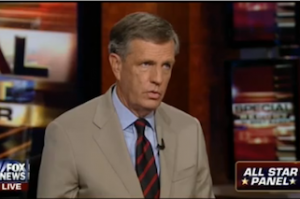 During a panel discussion on Fox News' Special Report with Bret Baier Monday afternoon, guests had a message for any Democrats who might see today's mass shooting in Washington, D.C. as an opportunity to revive the gun control debate: not so fast.
Remarking on the nature of the "mass shooting of a kind we've become all too familiar with," Brit Hume said he's already seeing that the "usual suspects have gone to battle stations as they always do over gun control, or the lack of it or whatever, and that's going to happen, but it doesn't mean very much at this stage."
"It's hard to believe that, after what happened in Newtown, and nothing came of it in Congress," Hume added, "that much on that issue is going to come of this." Essentially, Hume seemed to be saying, if 20 dead children couldn't move Congress to act on gun control, 12 dead adults probably aren't going to make a difference.
The Weekly Standard's Stephen Hayes agreed with Hume, and added that the speech President Obama gave following the incident won't help his cause if he does try to revive gun legislation.
"The president gave a speech today that I think, for some struck people as somewhat tone deaf, the fact that he gave a speech that was certainly a bitter partisan attack on Republicans, particularly on these budget issues, as the situation was unfolding," Hayes said. "If the White House were inclined–and his colleagues, political supporters were inclined–to resurrect the campaign on gun control, the fact that the president spoke today, the way that he did, would make that a more difficult challenge."
Watch video below, via Fox News:
[photo via screengrab]
— —
>> Follow Matt Wilstein (@TheMattWilstein) on Twitter
Have a tip we should know? tips@mediaite.com