Fox's Carlson: 'Completely Hypocritical' if Obama Offered Mandate Delay After Shutdown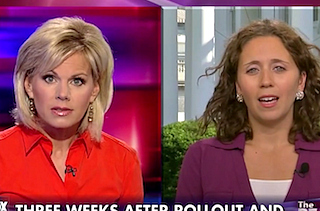 Fox News' Gretchen Carlson asked Associated Press White House Correspondent Julie Pace if she thought the potential that the White House could allow a year-long delay of the individual mandate was "hypocritical," given that a government shutdown had just resulted, in part, over a fight for that very same delay.
"I thought it was so noteworthy that during the press briefing [White House Press Secretary] Jay Carney actually intimated that this administration would be looking at a delay for the individual mandate," Carlson said. "And you juxtapose that to why our government shut down to begin with: because the Republicans wanted a delay because the law wasn't ready. So would this be completely hypocritical if in fact this administration now offers a delay?"
"The one thing I would say that is that we are in the first three weeks of the sign-ups," Pace said. "This is a six-month sign-up period. No one is actively talking about announcing a delay in the coming days. But that certainly isn't something they are completely ruling out. That's largely because, for people who are going to sign up, if these delays on the website continue and they aren't able to sign up, they would be hit with a penalty and it would be pretty unfair to penalize someone just because the infrastructure wasn't working. But we are quite a bit of time away from any type of an announcement of a delay, if it does comes to that point."
RELATED: Jon Karl Presses Carney to Delay Obamacare Mandate: 'You Can't Really Charge People a Fine…'
Carlson asked if anybody in the Obama administration was considering Senator Marco Rubio's (R-FL) idea for a six-month delay until the website was operational.
"No one in the White House that I've heard," Pace replied.
Watch the full clip below via Fox News:
[Image via screengrab]
——
>> Follow Evan McMurry (@evanmcmurry) on Twitter
Have a tip we should know? tips@mediaite.com