Jay Carney: September Jobs Report 'Disproves' Anti-Obamacare Part-Time Jobs Talking Point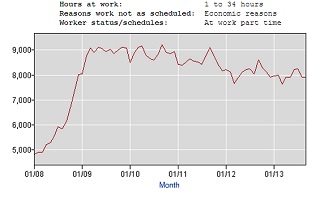 Tuesday's White House Daily Briefing was dominated by discussion of the Healthcare.gov website's difficulties, but Fox News' Ed Henry did give Press Secretary Jay Carney the opportunity to remind viewers that the Affordable Care Act reduces the federal budget deficit, and to respond to the oft-cited claim that Obamacare is responsible for a surge in employers cutting workers' hours to part-time status.
Henry began by asking several questions regarding the "tech surge" that President Obama has promised in order to fix the problems with the Obamacare website, specifically whether the names of the experts and companies being used would be disclosed, and what the additional costs might be.
Carney largely referred Henry to the Department of Health and Human Services, although Henry made the point that "If these individuals work for companies, they have business before the White House, business before the Congress, do you think, in the interest of transparency, it would be a good idea to list the people and their companies?"
"At this point, Ed, I just don't have more information," Carney said, and referred him, again, to HHS.
"What is your estimate on how much more money it's going to cost, then, to fix the website and implement the early stages?" Henry asked. "It's already hundreds of millions of dollars that have been laid out, has been disclosed. What's your estimate?"
"The budget for this is something that's housed over at HHS, so I'd refer you to them," Carney said, then appeared to draw inspiration from someplace.
"It's important to note, although it's rarely noted, certainly in some places," Carney continued in response to Fox News' Ed Henry, "that the Affordable Care Act, as it is implemented, as measured by the nonpartisan Congressional Budget Office as well as others, will reduce our deficits in the first 10 years, and then significantly in the next 10 years. We are already seeing benefits from the passage and implementation of the Affordable Care Act when it comes to slowing the growth in our health care costs. The three slowest years of health care cost growth has been the last three years, three slowest in the past half century. All of this data, I think,  is contradicting some of the predictions and even current charges by critics of Obamacare when they say it is going to explode health care costs growth, when the opposite has been true."
Carney added that "the charge they constantly make, and it seems to be unchecked in press conferences, is it's causing increases in part-time workers. Even the jobs data from this past September disproves that. In this recovery, job creation, and since the passage of the Affordable Care Act, job creation has been consistent with or above when it comes to full-time job creation during this recovery — the percentage of full-time jobs versus part-time jobs has been at the level of previous recoveries or greater than previous recoveries, again, disproving a charge that seems to be made regularly unchallenged."
Carney's claim checks out, according to today's jobs report:
The number of persons employed part time for economic reasons (sometimes referred to as involuntary part-time workers) was unchanged at 7.9 million in September. These individuals were working part time because their hours had been cut back or because they were unable to find a full-time job.
As others have noted, part-time employment peaked at the height of the recession, and has declined overall since then.
Here's the clip, from C-Span:
Have a tip we should know? tips@mediaite.com