Fox's Chris Wallace Hammers Rubio On Immigration Plan 'Why Isn't That Amnesty?'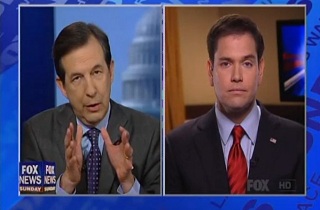 Senator Marco Rubio took another beating for his support for immigration reform legislation in the Senate this morning, this time from Chris Wallace on Fox News Sunday. Rubio defended his position on the legislation saying that what he supports is not amnesty.
Wallace told Rubio that most people in Washington see the granting of some kind of legal status to illegal immigrants as amnesty that will never be revoked. "I think that's where people are misunderstanding. They don't get anything. What they get is an opportunity to apply for it. They still have to qualify for it. They have to pass the background check, they have to pay a registration fee, they have to pay a fine and then they have to renew it," said a perturbed Rubio.
RELATED: ABC's Jonathan Karl Absolutely Grills Sen. Marco Rubio On Immigration Reform
The so-called Gang of Eight, a group of bipartisan Senators, has been working on immigration reform legislation for months. The group plans to release it sometime this week. Critics with knowledge of the plan have continuously charged that it is a form of amnesty. Wallace brought this up to Rubio and he denied these charges.
"This is not amnesty. Amnesty is the forgiveness of something. Amnesty is anything that says 'do it illegally it will be cheaper and easier,'" said Rubio.
Rubio championed his legislation as creating a difficult path to citizenship for people already in the country illegally.
Watch clip below via Fox

Have a tip we should know? tips@mediaite.com