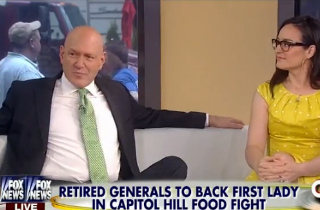 For those of you who've yet to tire of seeing professional slimeball Keith Ablow make an embarrassment of himself on Fox, check out this clip from today's Outnumbered.
While discussing First Lady Michelle Obama's perennial plans to get American kids active and eating better, several of the show's female co-hosts expressed skepticism and explored the difficulties in getting young kids to eat healthier foods.
"I am an advocate for healthy parenting and healthy eating," Kennedy said, "but if i pack kale and blueberries, they are not going to eat it." Several of her co-hosts agreed that they like the First Lady's message, but take exception to how it's being delivered.
Enter Keith Ablow, the cable news version of Dr. Evil — complete with asinine remarks and off-the-charts self-assuredness:
And how well could she be eating? She needs to drop a few. Let's be honest. We're taking nutrition advice from who?
The gasps from Ablow's four female co-hosts were, shall we say… quite audible. "You did not," Harris Faulkner exclaimed. "Oh, my goodness gracious."
Ablow continued: "I want nutrition. But let's be honest, there's no french fries happening? It's all kale and carrots? I don't buy it. Just saying." If you thought he'd stop there, you'd be wrong: He added that perhaps Barack is a better source of nutrition advice because he is skinny.
"I like her booty," Kennedy pushed back.
And Fox cameras cut to co-host Sandra Smith with an excruciatingly uncomfortable look upon her face, as she said, "Fitness of the first lady aside, her presentation aside, I have no comments on that." Faulkner thanked her.
But Ablow remarked: "Join me in my criticism."
Watch below, via Fox:
— —
>> Follow Andrew Kirell (@AndrewKirell) on Twitter
Have a tip we should know? tips@mediaite.com