Fox's Wallace Grills Lanny Davis over Clinton Donations: Not Just 'Smoke and Mirrors'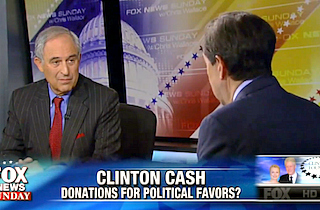 Longtime Clinton surrogate Lanny Davis called the allegations in Peter Schweizer's new book Clinton Cash "smoke and mirrors that totally miss the good deeds that [the Clintons] have done over the years" on Fox News Sunday this morning.
A skeptical Chris Wallace quizzed him on numerous points, including a $2.3 million donation to the Clinton Foundation by a Russian company that then was cleared by Hillary Clinton's State Department to purchase a Canadian uranium firm, giving it a giant stake in the world's uranium market — a donation that was not reported.
Davis said the donation had in fact gone to a separate organization, though Wallace pointed out that the separate organization appeared to be merely a funnel to CGI, and that it had been approved by numerous other departments. At any rate, Davis said $2.3 million was, in fact, pocket change compared to how much CGI had raised. "We do not think that was a contribution to the foundation, but if it was, $2.3 million divided by 2 billion is not what Chris Wallace should call major," he said.
RELATED: Hillary Campaign Fundraises Off 'Baseless' Clinton Cash Allegations
"It's what I call major," Wallace said. "It may not be what Lanny Davis calls major."
Wallace also asked after Clinton's emails, which were written on a personal email server, 30,000 of which she deleted after leaving the State Department. "Is it possible that any of the 30,000 emails that Hillary Clinton deleted as personal might have been about large donations or speeches?" Wallace asked.
"Look, anything is possible," Davis replied, and then tried to deflect to Jeb Bush.
"No, this is where you and I get in trouble," Wallace said. But Davis said he would happily come on Wallace's show and defend Bush from similar accusations. (Schweizer's next book is about the former Florida governor.)
The remainder of the interview was a rehash of their previous argument over the Clinton's emails, in which Wallace argued that Clinton was the one who had incurred this story by mixing her government account with a private server.
Watch the clip below, via Fox News:
[Image via screengrab]
——
>> Follow Evan McMurry (@evanmcmurry) on Twitter
Have a tip we should know? tips@mediaite.com