Fox's Wallace Grills Russian Amb. in Heated Interview: 'How Far Is Putin Willing to Go?'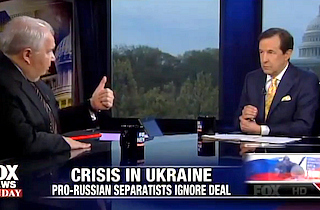 A very incredulous Chris Wallace took on Russian Ambassador to the U.S. Sergey Kislyak on Fox News Sunday as the ambassador attempted to squirm out of questions of whether Russia would actively enforce its side of this week's Geneva agreement and disarm pro-Russian separatists in eastern Ukraine, and whether Russian President Vladimir Putin's actions in the area represented an aggressive, Soviet-era mindset bent on territorial expansion.

"I'm asking you a direct question," Wallace said, after several of Kislyak's attempts to deflect discussion of separatists onto anti-Russian protestors in Kiev. "One, can you get the Russian militias to stand down; two, will you?"
"We are going to do whatever is necessary to see the Geneva agreement implemented," Kislyak said, before arguing that Russia wanted to see pro-independence forces in West disarmed as well. "But it has to be a process that includes all…And I would underline once again, the word all militias must be disarmed."
Kislyak also denounced western-imposed sanctions that are beginning to leaden the Russian economy. "We do not believe that the language of sanctions is a good one to talk in the twentieth century," he said. "You cannot work with Russia and try to achieve anything with us through the language of sanctions. Third, the sanctions that have been introduced certainly a significant gesture of the revival of the Cold War mentality. But, it's Russia. It's a very solid state, well-to-do country. We can withstand pressure."
Wallace was flabbergasted that Kislyak accused the U.S. of reviving Cold War tactics, and asked if the entirety of Russian action in Crimea was evidence of the same.
RELATED: Ukrainian PM: 'Crystal Clear' Russia is World's Primary Threat
"Oh no," Kislyak said. "You are talking about Crimea like it is a piece of real estate that we annexed. It's not. There are 2.2 million people living there. The future of Crimea was decided by Crimeans themselves."
"Under the thumb of pro-Russian separatists and Russian troops!" Wallace objected. "How far is President Putin prepared to go?"
"We are not going anywhere," Kislyak said. "We just want Ukrainians to find a way of dialogue, a new constitution, that would help them live in a country that is democratic, that supports the rights of all the ethnic groups, including certain Russians. And we want to have a friendly neighbor. Because for us all, irrespective of what is happening, Ukrainians are just our brothers."
"Just your brothers?" Wallace asked, fairly incredulously.
"I am Ukrainian myself," the ambassador replied with a cheshire grin.
"So is my family, historically," Wallace said.
Watch the clip below, via Fox News:
[Image via screengrab]
——
>> Follow Evan McMurry (@evanmcmurry) on Twitter
Have a tip we should know? tips@mediaite.com