From Pledges To Pastrami: The Top 5 Instances Of Politicians Backtracking For The Media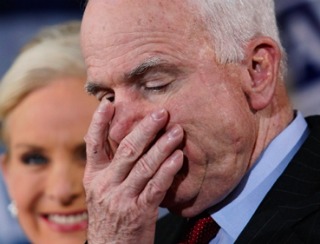 John McCain's recent disparaging remarks about Tea Party poster women Sharron Angle and Christine O'Donnell had many either breathlessly announcing that he was "back" or, alternately, opining that the Republican Arizona Senator "is Gollum." Either way, it seemed that McCain felt strongly about the Tea Party's influence in Washington and was truly and sincerely speaking his mind, however bluntly and lacking in tact his remarks may have been. And the media ate that up because Politicians Saying What They Mean is to us what candy is to a baby or, more accurately, what sweet corruptible human flesh is to Cthulhu.
But I'll let you in on a little secret: We The Media™ revel in pointing fingers while the other hand is giving a thumbs up. We delight in bread and circuses while casting judgment over your enjoyment of these things. And this is how things will continue until we return to sleep for another hundred billion years in the darkest, dankest, innermost recesses of the sunken city of R'lye (nerding out today)… or in our too-bright office cubicles.
In any case: If you step outside the lines we've created for you, Politician, we will rake you over the proverbial coals until you issue an apology or clarification that's about as heartfelt as the unholy union between these two. In that vein, let's stumble together down memory lane, reminiscing about instances where a politician — rightfully or otherwise — was made to grovel under three inches of television makeup and hairspray for the entertainment of the quietly gurgling masses. (Like us! *Gurgle.*)
1. In the wake of his remarks about the Tea Party, McCain paid a visit to Fox News' Sean Hannity saying that he "appreciates" the Tea Party movement and wants to have its babies, basically.
2. After all the hubbub surrounding her decision to sign the now-infamous marriage pledge issued by The Family Leader, Michele Bachmann appeared on (What else?) Hannity's show to announce that, contrary to some of the rhetoric in the pledge's original preamble, she definitely "abhor(s) slavery." Other things Michele Bachmann hates: Famine, genocide, child trafficking, people who harm puppies, and that feeling you get when your thighs stick to subway seats in the summertime.
3. Michael Steele, who was at the time Chairman of the Republican National Committee, went off-script in early 2009, telling CNN's D.L. Hughley (2009, you guys!) that conservative radio host Rush Limbaugh is "an entertainer. Rush Limbaugh — his whole thing is entertainment. He has this incendiary — yes, it's ugly." Steele then called Limbaugh to apologize, because goodness knows the public isn't entertained by incendiary media figures.
4. This might be stretching the definition of a "politician," but most of you stopped reading after the headline anyway. Back in May, the Secret Service's official Twitter account (2011, you guys!) published thishighly critical Tweet: "Had to monitor Fox for a story. Can't. Deal. With. The. Blathering." Kill. That intern. And eat it. The Secret Service later apologized for the offending Tweet, noting that a government employee had, surprisingly, done something stupid.
5. I saved the best for last. Take a deep breath, collect yourself, and make sure you're not currently noshing any delicious cured meats.
After Carl Paladino publicly apologized for anti-gay remarks he'd made during a speech at an Orthodox Jewish gathering, "Tea Party Rabbi " Yehuda Levin — who had helped write Paladino's speech — announced that he would be withdrawing his support for the politician. And then this happened:
"Which part of the speech that you gave in Brooklyn to the Orthodox Jewish community are you apologizing for?" Rabbi Levin asked at a news conference in front of St. Patrick's Cathedral, on Fifth Avenue. "Will we see you next year with your daughter at that gay pride march?"
[…]
"I was in the middle of eating a kosher pastrami sandwich," Rabbi Levin said. "While I was eating it, they come running and they say, 'Paladino became gay!*' I said, 'What?' And then they showed me the statement. I almost choked on the kosher salami."
Oh my God, right? Politicians and The Media make such strange bedfellows, literally and figuratively. And we hope that never, ever changes.
*Carl Paladino is not gay.
Have a tip we should know? [email protected]