Furious Rick Santorum Fights Charlie Rose Over 'Gotcha' Question On Aspirin Joke: 'This Is What You Guys Do!'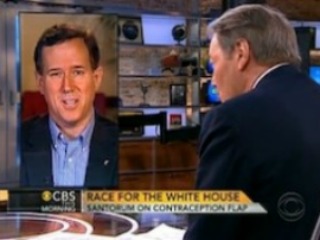 Rick Santorum is sick of talking about Foster Friess. Can you blame him? This is a candidate surging to the front of the pack right now who could change everything with a win in Michigan, and it's a candidate who, all along, has had to work around the perception that his personal views on social issues might be too extreme and out dated for 2012's America. So, of course he's angry that he's spent every interview of the last day talking about a crappy, sexist joke that should have stayed in the 1950s. It appeared that that anger hit its boiling point this morning on CBS when Charlie Rose tried to broach the topic again.
RELATED: Greta Van Susteren Holds Santorum's Feet To The Fire Over Supporter's Aspirin As Contraception Remark
Rose asked Santorum what he's said to Friess since the supporter shocked Andrea Mitchell by explaining that, in his day,* women's contraceptive just involved holding aspirin between their legs. At that moment, Santorum looked a little bit like (and I'm sure this will be the only time in any of our lives that this comparison is made) Kate Upton yesterday on Fox getting asked to do the Dougie for the millionth time. However, unlike the model, Santorum couldn't hide his frustration, quickly accusing Rose of asking a "gotcha" question.**
*Certain people should just stop talking whenever the phrase "in my day" exits their lips.
**Speaking of things that could have stayed in the past, would our society have been hurt too much if the phrase "gotcha question" had ended with the 2008 election? It's like the world's stupidest word.
Rose defended his question as a necessary look into a candidate's beliefs and things got heated:
SANTORUM: Hold on, Charlie. When you quote a bad joke from a supporter of mine that somehow I'm responsible for, that's "gotcha."

ROSE: No one's saying your responsible, Senator. They're asking how you would characterize it and what you said to him. Not that you were responsible. It's to understand how you differ from what this person said.

SANTORUM: So now I'm gonna have to respond to when every supporter says something. Look, this is what you guys do. You don't do this with President Obama. In fact, with President Obama, you went out and defended him from someone he sat in a church for 20 years and defended him with "Oh, he can't possibly believe what he listened to for 20 years." This is a double standard, it's what you're pulling off, and I'm gonna call you on it.
Clearly, Santorum needs to send a mailer to all his top supporters. If they get the urge to tell a reporter a joke their dads might have laughed at at a stag party, just put the microphone between your legs and hold it there.
Watch the clip from CBS below:
Have a tip we should know? tips@mediaite.com