George Lopez Tells Piers Morgan He'll Move To Canada If Sarah Palin Becomes President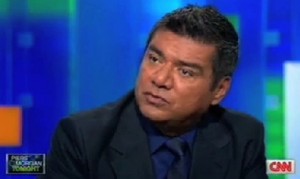 Comedian George Lopez, host of TBS' Lopez Tonight, has drawn the ire of several conservative websites by telling CNN's Piers Morgan that "If Sarah Palin becomes president at any point, I will say allegedly, I will move to Canada."
Given Lopez's prior Palin pronouncements (he previously threatened to move to Mexico if she's elected President, and called her a "bitch" in Spanish), it's hard to see what they're all getting worked up over, but it does underscore the degree to which Michele Bachmann has sucked all of the air out of Palin's presidential ambitions.
Newsbusters' Noel Sheppard was oddly offended that CNN would highlight Lopez's quote to promote the episode, even as he was writing an entire article highlighting the quote. The Daily Caller's Laura Donovan was subtle in her mockery, referring to Lopez as "the Beverly Hills Chihuahua 2 actor," but also had the good grace to plug his movie, noting that "Lopez's newest project, 'The Smurfs,' hits theaters Friday."
Morgan asked Lopez why he felt that way about Palin, to which the Balls of Fury star replied, "I like my politicians to actually have a political background, to be politically — to know politics, to actually have inherited something from working in the political world."
It may be a symptom of the never-ending, microscopic news cycle, but listening to Lopez joke about a Palin presidential run sounds oddly dated. Since entering the 2012 GOP primary race, Rep. Michele Bachmann seems to be getting all of the ink Palin used to get. You would never know that Palin is actually polling dead even, or even slightly ahead, in recent GOP primary polls.
Here's the clip, from CNN's Piers Morgan Tonight:
Have a tip we should know? tips@mediaite.com