George Zimmerman's New Lawyer Updates Lawrence O'Donnell On Where Case Is Headed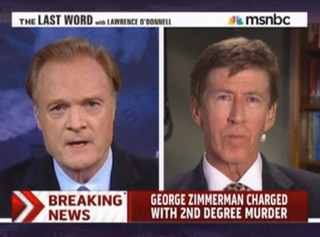 The last time Lawrence O'Donnell tried to speak to an attorney representing George Zimmerman, he ended up yelling at an empty chair. The attorney that bailed on him, Craig Sonner, and his partner ended up departing, clearly much to O'Donnell's satisfaction tonight as he thanks Zimmerman's new attorney, Mark O'Mara, for his professionalism and courtesy.

RELATED: George Zimmerman's New Lawyer Speaks Out: 'I've Seen Only What Has Been In The Media'
O'Mara said several times on television today that he would not comment on the evidence, so O'Donnell began by asking broader questions. First: did the previous lawyers do too much damage to the case? "Anyone who puts out evidence in a piecemeal fashion damages the case," he answered. O'Donnell also ask O'Mara about the claim by some in the Zimmerman family that Trayvon Martin had told Zimmerman something to the effect of "you're going to die now," but O'Mara answered only that "any comment right now on the evidence, whether it is presented by a family member or attorney, I believe is inappropriate at this point." O'Donnell thanked him for the professionalism on behalf of himself as host and the audience, and asked about another comment Zimmerman's father made– that the President had expressed hate.
"I watched it like most people, I saw some of the comments made by a lot of people including President Obama," O'Mara replied. "My opinion doesn't matter, but I didn't feel hatred at all." That said, he added that George Zimmerman, Sr.'s had a deep wound about the situation his son was in, and "anything can be reinterpreted or misinterpreted through a parents' eyes… they are the parents involved, they are entitled to their emotions." He did tell O'Donnell his first meeting with Zimmerman would be in about a half hour ("don't follow me!").
O'Donnell's final question was a personal one: "did you have to have a family discussion" before taking the case? O'Mara said that yes, he had, with family and with staff, "just to realize that this is the type case I have grown with, doing this 30 years," which made it important, and made it "life-changing." He said he had been a defense attorney in many murder and non-murder cases since the passing of the Stand Your Ground law, but that it had not had any specific major impact on the conduct of his defenses so far.
The interview via MSNBC below:

Have a tip we should know? [email protected]