Geraldo Battles Fox & Friends Hosts Over Support For Civilian Trials For Terrorists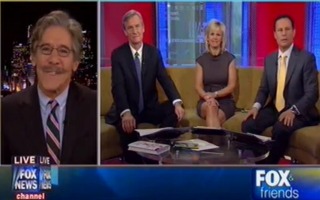 Fox & Friends hosted Fox News host Geraldo Rivera on Friday to discuss the military trial of 9/11 mastermind Khalid Shake Mohamed, whose original trial was postponed nearly three years ago, as well as the recently declassified Osama bin Laden documents. Rivera said he thought a civilian trial "would have been a great idea" for terrorists like KSM, to which the Fox hosts said the Obama administration's 2009 proposal for civilian trials was "just a big waste of time."

RELATED: Geraldo Rivera: 'Now Is The Time To Negotiate With The Taliban'
"Khalid Shake Mohamed, his trail will begin tomorrow," co-host Brian Kilmeade began. "When we last left off, Geraldo, he had admitted his guilt and he wanted to be convicted."
Rivera recalled how KSM was to be tried in a civilian court in 2009, but his trail was postponed and eventually canceled. "There was an enormous outrage and an outpouring of opposition – they even got Mayor [Mike] Bloomberg and Commissioner Ray Kelly on board," said Rivera. "So the trail was moved. They ditched the idea of a civilian trial – which I thought would have been a great idea – and they moved it to Guantanamo."
The debate became heated when co-host Gretchen Carlson interjected that the original military commission tasked with trying KSM was "half way through this trial three years ago."
"He had just admitted that he did it, and then the administration pulled the plug on It and tried to move it here to the United States – maybe not realizing that a lot of members of Congress were not going to have anything of that – so was this just a big waste of time," asked Carlson. "Now we're back to where we were three and a half years ago."
Rivera said that new information had come to light in the case and the resulting trial would be working off an "enhanced indictment." He reiterated that he preferred a civilian trial for KSM over a military commission, but conceded that the intervening years had been a waste of time.
"He wants to die," said Rivera. "He wants to be martyred and I'm inclined to grant his wish."
Co-host Steve Doocy asked Rivera by what logic would he support a civilian trial for KSM who is an "enemy combatant to the 100th degree."
"As a New Yorker, I would have liked to see this creep brought to justice in the shadow of the new One World Trade Center," said Rivera.
"But what if one juror says he's not guilty and they hang the jury," interjected Doocy.
"Well, that's a risk you take but the guy has confessed. He wants to die," said Rivera. "The odds of him being acquitted are slim to none."
Rivera was then asked to weigh in on the recently declassified Osama bin Laden documents; he said that Al Qaeda's review of the level of fairness of cable news networks was flattering because the terror network had indicated that they believed Fox to be the worst of the lot. "You can tell a man by his enemies," said Rivera. "I appreciate that."
He went on to say that the documents that were released portray an Osama bin Laden that seemed to have been relatively neutered from the image of the dangerous terror mastermind that was popular in the immediate aftermath of 9/11.
"This is just Osama bin Laden Kvetching," said Rivera. "He was really upset about the direction of Al Qaeda – as well he should. It is a portrait of a – kind of a pathetic creature who because of a moment in history and a lapse in security in a couple of airports managed to inflict terrible harm. Now he's increasingly irrelevant. A cranky old guy that we took out, and thank goodness we did one year ago."
Watch the segment below via Fox News Channel:
Have a tip we should know? tips@mediaite.com