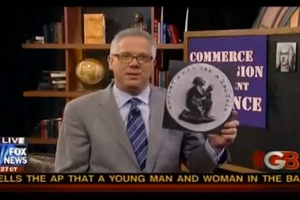 Today's Glenn Beck was a complex history lesson involving many intricate threads woven together by the four forces of commerce, religion, government, and science. It was also a complex, delicious-looking cake composed of four edible layers of commerce, religion, government, and science (but probably just fruit). And to explain how these layers relate, Glenn Beck explained the family history behind the Father of Modern-Day Racism, Charles Darwin.
After explaining the significance of the illustration of a slave in shackles reading "Am I Not a Man and a Brother?" made famous accompanying the abolitionist poem "My Countrymen in Chains" (more about that here) as "the Lance Armstrong bracelets of the day," he took on the history of the man who made the illustration into a mass-produced medallion, Josiah Wedgwood. His story and that story of the image were an anecdote chosen to illustrate the aforementioned four forces elemental in American history. Government and religion work together, government and religion are driven apart, and those dynamics result in things like slavery and the abolition thereof. Funny that Wedgwood was such an abolitionist, Beck continues explaining, as "his great-grandson plant[ed] the seed that leads to progressivism, eugenics." Yes, that's right, Wedgwood's grandson was "Charles Darwin, the father of modern-day racism," he concludes.
Beck doesn't really explain that assertion any further, since he ends the story there, but it's a heavy enough accusation that it feels more like a cliffhanger than an intended given. If there is one planned– and there's no reason to believe there isn't– Beck's history lesson on Charles Darwin promises to be fascinating if that's the groundwork he's laying for it. We can only hope it will be as delicious.
Video from tonight's show via Fox News below:

Have a tip we should know? tips@mediaite.com