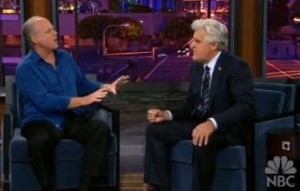 Conservative radio titan Rush Limbaugh made a rare TV appearance last night, in a lengthy interview on The Jay Leno Show (#1 meets #3). As he does on his own radio show, he completely dominated the program.
But this wasn't his show, it was Leno's. And the host could barely get a word in.
From the very beginning Limbaugh was on offense, and he never turned the ball over. It started with an innocent compliment from Leno, to the radio host who just lost "82 pounds." Somehow Limbaugh was able to turn his weight loss into an attack on the mainstream media.
For most of the more than eight minute interview, it was very clear that Leno's usual audience of liberal-leaners was stacked last night with Limbaugh supporters. "If the government gets control of health care that's the single best way they get the control of every aspect of our lives," Limbaugh said, to whoops from the crowd, just as cheers drowned out any boo that slipped through.
In many ways, the entire interview could be summed up in Leno's analogy about the differing political styles of the two men. "I tend to come from the 'is it cold in here?' kind of guy, and you're more 'close that damn window,'" said Leno.
It's an analogy Leno has used before, like in his Time magazine cover story out last month. But it highlights the timidity of Leno in the face of an imposing 'close that damn window' guest. Even Jerry Seinfeld took over his interview on Leno's premiere. That has always been part of the appeal of Leno – it's about the guest, not the host, and the welcome mat will firmly be in place for a political or potentially touchy interview. But if NBC wants buzz – and viral hits – they need Leno to get tough.
If the Limbaugh interview were done on the Late Show with David Letterman, it would have tense and awkward and great TV. If it were done on The Daily Show with Jon Stewart, it would have been deep and potentially argumentative, with a soundbite or two sure to get major media pick-up. If it were done on The Tonight Show with Conan O'Brien, politics would largely be avoided in favor of comedy. But at least it would be funny. Instead, we're left with more than eight minutes of an interview with a rarely seen, divisive megastar, and very little to pick out and say 'here's the takeaway.'
After the interview, Limbaugh drove a green car around Leno's outside track, and hit a cardboard cut-out of Al Gore on purpose. This is supposed to be funny because Rush Limbaugh doesn't like green cars and really doesn't like Al Gore. This is not funny because…it's not funny.
Here's the lengthy (so lengthy, Hulu made it two clips) Limbaugh interview, and the racing segment after:


—–
» Follow Steve Krakauer on Twitter
Have a tip we should know? tips@mediaite.com