Halperin Clarifies 'Death Panel' Interview, Defends Point About Obamacare's 'Rationing'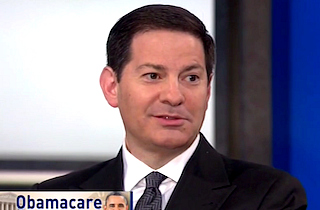 TIME political analyst Mark Halperin appeared on Morning Joe Wednesday morning to explain his controversial interview with Newsmax TV's Steve Malzberg yesterday, during which Halperin agreed with the host that "death panels were coming." Halperin told MSNBC he was referring to health care rationing that would be an inevitable consequence of the Affordable Care Act's attempts at cost controls.
"I said something imprecisely," Halperin said. "I was asked about rationing or 'death panels' in the Affordable Care Act…I didn't use the phrase and I don't think there death panels in the Affordable Care Act."
The interview reignited the long-dormant debate over "death panels," forcing Halperin to clarify his remarks yesterday on Twitter.
"The point I was trying to make—and which I did make—is that there is in the law something intended to lower health care costs, which will produce rationing, whether you think rationing is a good or bad idea," Halperin said.
"However you want to call rationing, at some point we're going to have a system that doesn't allow people to have as many MRIs as they want to have," host Joe Scarborough said.
RELATED: The Five Blows Up Over 'Bullsh*t' Obamacare 'Death Panels'
"Let's separate the two things out," Steve Rattner said. "The death panel thing happened because there was something the original bill that said that people could get counseling near the end of life to make the best decisions. Sarah Palin found this, went crazy, started talking about death panels. So they did a 180, and now the law says you cannot change benefits, you cannot do anything to change people's availabilities."
"They say that, but the way markets work is if you restrict payments to providers, it's going to have an impact on patients," Halperin replied. "Whether we should have a system that has the government play a role in deciding how much care people can have at the end of life, my point is: Obamacare does that. That's where we are headed. We're going have to have a big national debate about it. Part of the political challenge for the president now is, every one of the things that wasn't discussed on passage, wasn't discussed in the context of the presidential campaign, is going to be controversial, and the president's going to have to defend it."
Watch the full clip below, via MSNBC:
[Image via screengrab]
——
>> Follow Evan McMurry (@evanmcmurry) on Twitter
Have a tip we should know? [email protected]