Hannity And Palin Chastise GOP For Not Fighting Back Against Democrats' Campaign Tactics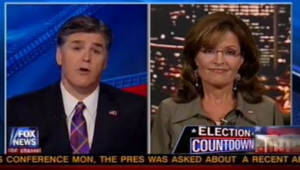 In yet another cable news segment stemming from Cory Booker's Meet the Press appearance, Sean Hannity and Sarah Palin chatted about the hoopla on Monday night. Palin noted that we saw Booker's genuine feelings about the private sector, before going on to call on Republicans to put everything on the table in the fight for the White House. Don't allow Democrats to dictate the narrative, she warned.
"This is the crux of their campaign, isn't it?" Hannity asked. Yes, agreed Palin — who went on to note that it's "a shame" that Booker walked back on his remarks, but that we saw his "true feelings" nonetheless.
Noting Mitt Romney's new ad (which emphasizes how even President Barack Obama's supporters take issue with his attack on free enterprise), Palin said that many of Obama's surrogates, who have experience working with the private sector, made for a "brilliant" piece of advertising by simply speaking the truth about free enterprise.
Palin then reiterated her belief that nothing should be off the table when it comes to vetting the president. Which then inevitably brought us to the issue of Rev. Jeremiah Wright, which Palin said she still thinks is relevant and fair game. We need to understand the "radicals" and "Marxist professors" that led to who Obama is today.
Hannity said Palin has been through probably the toughest vetting process, and that she's taken many unfair attacks. This led him to the way the media's been portraying Romney — and said Republicans don't seem to be wanting to fight fire with fire.
The left, Palin said, is being hypocritical by taking issues off the table. A "one-sided ceasefire call" is not okay, she said. Some GOP operatives, she added, "have the fighting instinct of Mr. Snuffleupagus" — who would hide, back down and run in the other direction. That is not what we need, she said, stressing the need for the GOP to fight "tooth and nail."
Republicans shouldn't allow the left to dictate how this election will go, Palin said. They have to be in it to win it. On a more personal note, she said she'll do anything she can to get "anybody but Obama" in the White House.
Take a look, via Fox News:

Have a tip we should know? tips@mediaite.com