Hannity Faces Off with BuzzFeed's Rosie Gray About Whether There's an 'Alt-Radical Left'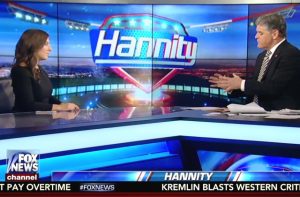 After their Twitter back-and-forth a few days ago, Sean Hannity and BuzzFeed's Rosie Gray faced off on Hannity's Fox show tonight.
The key point of contention here for Hannity is that if the media is going to talk about the horrible individuals in the alt-right––a movement Gray has done in-depth reporting on––then they should also be able to acknowledge there is an "alt-radical left" out there.
Gray, who made it clear to Hannity that there should be no confusing the alt-right with the conservative movement, said that Trump was slow to disavow support from people like David Duke. Hannity said that obviously people like himself and Trump don't support Duke.
He went on to play clips of Black Lives Matter protests in which people chanted things like "Pigs in a blanket, fry 'em like bacon!" and "What do we want? Dead cops!"
Hannity submitted that those people fall under the category of "alt-radical left" and questioned why Black Lives Matter leaders would be invited to the White House. Gray took issue with him trying to say those individuals speak for the movement at large, noting that none of the people in those videos were invited to the White House.
She said that he's "taking a couple of isolated incidents to extrapolate," but Hannity asked her why they aren't "alt-left."
Gray said he can use whatever label he wants, but asked him for his personal thoughts on the alt-right (rightly pointing out how much influence he has in the conservative media sphere). Hannity made it clear that anyone who holds racist or anti-Semitic views is not welcome in the conservative movement.
Watch the full segment above, via Fox News.
[image via screengrab]
— —
Follow Josh Feldman on Twitter: @feldmaniac
Have a tip we should know? tips@mediaite.com
Josh Feldman - Senior Editor