Howard Kurtz: Media Had 'Maybe Too Much Sensitivity' On 'Question Of Islamic Jihad' After Bombing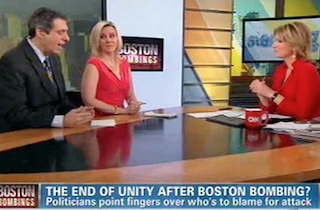 On Friday's Starting Point, the panel discussed the finger-pointing that inevitably takes place after major news events, be it natural disasters or acts of violence. The Boston Marathon bombing was no exception, as Howard Kurtz and Lauren Ashburn both noted. Kurtz also responded to the way the media handled the question of Islamic jihad, suggesting there was perhaps too much "sensitivity" on their part.
Kurtz and Ashburn recapped some of the comments made following the attack — ranging from politicians taking the chance to criticize gun control advocates or the likes of Fox News' Bob Beckel proposing we "cut off" visas to Muslim students.
"Do you think the media was quiet and careful in the very beginning about tying the motive here to religion?" Christine Romans asked, using their comments as a segue. "Do you think there was a sensitivity to that, that the right maybe has a point about saying that liberals in Boston were too concerned about that?"
"I think there has been maybe too much sensitivity on this question of Islamic jihad," Kurtz replied. "But at the same time, when mainstream media report a story that says that there is no evidence to suggest they had the connection to anyone else, that's where the facts are. But there is this anti-Muslim sentiment building up in the media and among politicians."
Ashburn didn't disagree, adding that, initially, there was caution about tying the incident to religion. But "as the week went on, before the bodies were buried, we started hearing the anti-Muslim chatter."
Take a look, via CNN:

Have a tip we should know? tips@mediaite.com