Ingraham Battles Guest Over Jay Z, Obama Economy: It's Been Five Years, Stop Blaming Bush Already!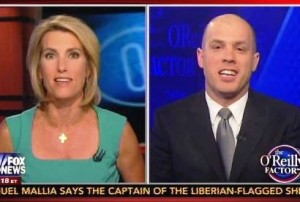 On last Friday's Real Time with Bill Maher, artist Jay Z said that the American middle class is disappearing and the gap between the haves and have nots is a growing problem that "no amount of police can solve." O'Reilly Factor guest host Laura Ingraham found this an irresponsible, borderline threatening comment from the millionaire rapper. She clashed with guest Michael Skolnik over whether Jay Z was wrong to say it and whether he has any ground to say it when he's a big Obama supporter.
RELATED: 99 Problems But Mitt Ain't One: Jay-Z Replaces 'B*tch' With 'Mitt' During Obama Rally Performance
Skolnik told Ingraham a lot of people on the left and right agree with Jay Z's comments on income inequality, adding he wasn't literally saying the streets would erupt with violence. Ingraham still thought it was an irresponsible statement from someone with so much influence, and found it interesting how the rapper's criticism of the economy didn't take note of the fact that President Obama is in charge of it. If Jay Z is so concerned about the current state of the economy, Ingraham wondered, "why is he supporting Barack Obama's policies?"
This led to a huge shouting match between Ingraham and Skolnik about exactly how well Obama has handled the economy, with Ingraham insisting Obama's policies have "done nothing to spur the type of growth that will help everybody" while Skolnik maintained that Obama's been a "phenomenal president," citing the health care law that's only "wildly unpopular amongst your viewers." At one point, Skolnik pointed to Obama inheriting a tough economy, which led Ingraham to fire back, "You can't blame Bush five years into a presidency!"
As Skolnik listed more reasons why he thinks Obama's been "phenomenal," Ingraham jumped in and said absolutely no examples he cited have anything to do with income inequality.
Watch the video below, via Fox News:
—–
Follow Josh Feldman on Twitter: @feldmaniac
Have a tip we should know? tips@mediaite.com
Josh Feldman - Senior Editor