Jane Lynch Anchors Maddow Segment To Offer Republicans A Fundraising Opportunity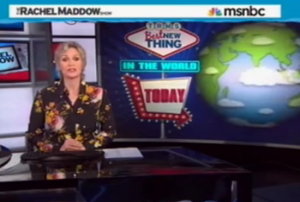 Rachel Maddow wound up in the guest seat on her own show Wednesday night when Glee actress Jane Lynch took over the show, leading a "Best New Thing in the World" segment about gay rights and politics. That "thing," she said, was a source of revenue Republicans haven't yet tapped: there's money to be made promoting gay rights.
Republicans aren't on the right side of the issue, she said. Even politically speaking. Lynch went on to cite a 2004 President George W. Bush pollster who sent a memo to Republican operatives, suggesting the party change the way they discuss gay marriage. Lynch highlighted the following excerpt:
Conservative fundamentals: "As people who promote personal responsibility, family values, commitment and stability, and emphasize freedom and limited government we have to recognize that freedom means freedom for everyone. This includes the freedom to decide how you live and to enter into relationships of your choosing, the freedom to live without excessive interference of the regulatory force of government."
Where's the job opportunity? Lynch, channeling Maddow, concluded:
Someone is going to have to teach Republicans to talk about gay rights, without seeming like they've caved to the Democrats. Some strategists are going to have to make it their specialty to teach Republicans how to be pro-gay while still sounding angry. That's a very tall order, but the good news is, you can charge more money. Republicans are trying to figure out how to lose gracefully. The best new thing in the world today.
Lynch then turned to Maddow, who was seated as a guest, to discuss the issue. Political calculus or not, Lynch said she thinks President Barack Obama does believe in equal rights. And what about people changing their mind about gay relationships? Many have a change of heart when they actually interact and get to know members of the gay community, Lynch said — adding that it's part of the reason she feels strongly about being open about her sexual orientation.
Noting Mitt Romney's changing stance on civil unions, Lynch said she doesn't buy this kind of devolution. It's all political, she said.
Take a look, via MSNBC:

Have a tip we should know? [email protected]