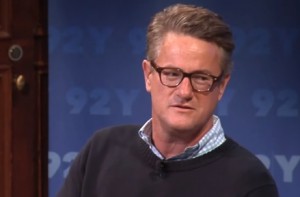 In a December 2015 interview with Wall Street Journal reporter Peggy Noonan, MSNBC host Joe Scarborough joked about how he had called on and visited Donald Trump's office to give him tips after his debate performances.
Scarborough talked about calling up Trump after the first Republican presidential debate during a discussion before the New York City nonprofit 92nd Street Y. "I've actually called him up, and I've said 'Donald, listen, you need to speak in complete sentences in debates.' And he goes, 'I'm up 30 points, Joe,' and I'm like, 'Good point, Donald,'" he said to laughter.
He went on to say that he and Morning Joe co-host Mika Bzrezinski actually visited Trump in person after the second debate. "I hope we don't have reporters here," Scarborough said, before launching into the story.
Watch below, starting @ 55:56.
"I walked into his office, I said, 'Donald, do you know how to read?' And he stared at me, 'What do you mean?' Mika got very nervous, she went 'Yeah Joe, what do you mean?'"
"I said, 'Read a paragraph on Syria, read a paragraph on education reform, read a paragraph,' " Scarborough concluded.
It's a funny little anecdote, but one that takes on new meaning in light of the fight between Scarborough and CNN media reporter Dylan Byers over Byers' report that Scarborough and Brzezinski visited Trump's hotel room during the New Hampshire primary. Scarborough has strongly denied that report, calling Byers a liar for publishing it. The next morning, Trump thanked the duo for being his "supporters" during an interview, with the co-hosts immediately distancing themselves from the remark.
[Image via screengrab]
——
>>Follow Alex Griswold (@HashtagGriswold) on Twitter
Have a tip we should know? tips@mediaite.com