Joe Scarborough Has Had It with Obama Supporters' 'Excuse-Making' 'Fantasy' of an Unreasonable GOP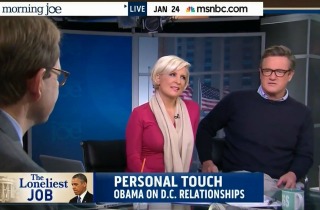 MSNBC host Joe Scarborough lashed out at his guests on Morning Joe on Friday when one made the assertion that modern politics has changed so much that President Barack Obama is ill-served by attempting to work with his Republican opponents. Scarborough went after his fellow panel guests for that assertion and insisted that it was Obama, not Republicans, who were to blame for the lack of bipartisan policy initiatives being passed during his presidency.

"The most frustrating thing, I must say, of the management of this White House," Scarborough said. "That they think that somehow working it, working on relationships…"
"Is beneath them," Mika Brzezinski added. Scarborough agreed, and said that even those close to Obama are frustrated by the fact that he appears to believe a speech is all the action necessary to enact his policy agenda.
RELATED: Joe Scarborough: Where Are Liberals Blasting Obama for Rise of 'Income Inequality?'
"He has said, for example, he regrets that during his first year, he didn't go out in the country more and try to sell Obamacare, and the stimulus program, and all of these programs," said former White House advisor Steve Rattner.
"That is the wrong regret," Scarborough shot back. "The regret should be that you didn't go and work the people that actually have to pass legislation."
Rattner insisted that there is no comparison to past presidents that can be made because "we're in a different world."
"No we're not," Scarborough disagreed. "This is a fantasy that has been concocted for the benefit and the excuse-making of Barack Obama for five years."
"Congressmen used to cane each other on the floor," he continued. "Nothing has changed. Go back and read history."
His co-hosts and guests laughed at Scarborough's assertion. "The James Monroe administration was one of the most controlling that I had ever seen," David Gregory mocked.
Watch the clip below, via MSNBC:
[Photo via screen grab ]
— —
> >Follow Noah Rothman (@NoahCRothman) on Twitter
Have a tip we should know? tips@mediaite.com