Joe Scarborough Rips Obama's 'Inability' To Work With Either Party: When Is He Going To 'Step Up'?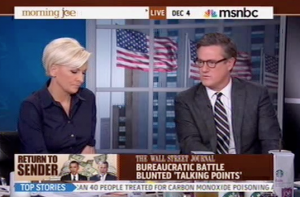 Joe Scarborough kicked off Tuesday morning's show by asking when President Obama is going to step up and find a way to work not only with Republicans, but with his own party as well. Referring to the fiscal cliff negotiations — which House Speaker John Boehner said were going "nowhere" — Scarborough said both sides deserve blame, "but there's only one president."
Offers from both the White House and Republicans, Scarborough said, were "in bad faith and pathetic."
"A hundred years from now, nobody's going to remember John Boehner's name, nobody's going to remember Harry Reid's name, nobody's going to believe for a second 20 years from now that John Boehner and Harry Reid were the architects of any deal or any failure," Scarborough said.
"When does the president realize that he is sitting in the chair of Thomas Jefferson, of Abraham Lincoln, of Woodrow Wilson, TR, FDR, JFK, Ronald Reagan. When does he realize that and step up and start doing what Abraham Lincoln did? … and buy them off, charm them off, beat them up, build a bridge. When is he going to do that?"
As Jon Meacham noted that Obama is knowledgeable about Lincoln's history, Scarborough further noted that Obama simply can't sit down with either party.
"His inability to work with Democrats and Republicans," Scarborough said. "Listen, friends at home watching: not just Republicans — Democrats and Republicans. You have to go back to Jimmy Carter to find a president that was viewed with as much suspicion by his own party on the hill as Barack Obama."
"We're not heaping all the blame on the president," he added, going back to his earlier point about offers from both sides being pathetic. "You gotta blame both sides, but there's only one president."
Take a look, via MSNBC:

Have a tip we should know? tips@mediaite.com