Joe Scarborough Tears Apart 'Stupid' New Romney Ad: 'Americans Don't Care About Solyndra'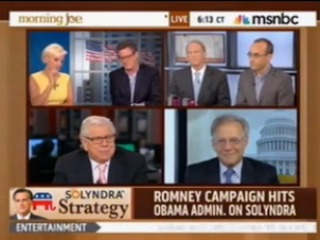 On Wednesday, the Morning Joe panel took a look at a new anti-Obama ad put out by the Romney campaign saying that President Obama is "giving taxpayer money to big donors," and paying special attention to the Solyndra failure.
While host Joe Scarborough felt that the Romney campaign has put forth some very good, "moving and compelling" ads in the past, this particular one, was less than stellar. Panelist Carl Bernstein felt it was "a cheap shot."
"That one sucked," said Scarborough. "It's a terrible ad."
RELATED: Ed Rendell On Pressure To Stop Romney From Campaigning With Trump: 'I Don't Think Voters Care
"They are going after Solyndra," he continued. "Americans don't care. I'm sorry. I care about Solyndra, you care about Solyndra. Americans don't care about Solyndra any more than they care about what Mitt Romney did 87 years ago with Bain Capital. They care about getting back to work, Carl. That's a stupid ad."
Bernstein agreed, adding that the ad reflects who Romney is: an opportunist.
"Do you think Obama's attacks on Mitt Romney on Bain Capital are opportunist?" asked fellow panelist Dan Senor. Bernstein responded that, as he sees it, there's a "huge difference in political opportunism between Obama and Romney."
Senor hit back by reminding him that, on the same day the Obama campaign launched an anti-Bain ad, the President was attending an event at the home of the president of the Blackstone Group. Bernstein responded by saying that Romney has shown a "lifetime" of opportunism.
Have a look, via MSNBC:
Have a tip we should know? tips@mediaite.com