John Stossel Issues Correction For 'Dumb' Statement Claiming 'No One' Starved During Great Depression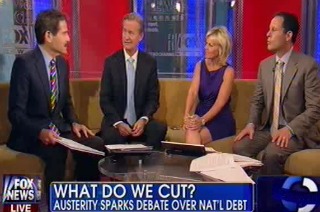 On Thursday, in an appearance on Fox & Friends, Fox Business Network host John Stossel illustrated a point about the unnecessarily expansive state America's welfare complex by saying that the nation fared relatively well when those programs were not in place during the Great Depression. He claimed that "no one" starved during that period of persistently recessed economic growth. Stossel later called that comment "dumb" and issued a correction.

"Think about the Depression," Stossel said on Fox News Channel on Thursday, May 30. "That was before there was any welfare state at all. How many people starved? No one."
"Good point," Steve Doocy agreed.
On Friday, Stossel sent out a link to a correction on via his Twitter account where he called his statement "dumb."

"This morning, on Fox and Friends, I said "no one" starved during the Depression. I was almost certainly wrong," Stossel wrote.
During the Depression, the governor of Pennsylvania wrote, "we know that starvation is widespread, but no one has enumerated the starving." However, all other governors who wrote to Congress, 43 of them, sent letters saying that they knew of no starvation in their states. Historians Steven Mintz and Sara McNeil wrote that there were hundreds of deaths in NYC alone.
Stossel cites a study, though, which proves that "health in America generally improved during the Depression."
"Population health did not decline and indeed generally improved during the 4 years of the Great Depression, 1930-1933, with mortality decreasing for almost all ages, and life expectancy increasing by several years…"
> >Follow Noah Rothman (@NoahCRothman) on Twitter
Have a tip we should know? tips@mediaite.com