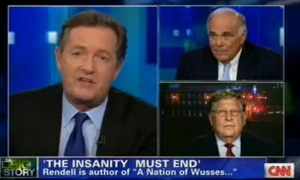 John Sununu and Ed Rendell joined Piers Morgan on Thursday night to discuss how presidential campaigning has been so far this election cycle. In a segment that ranged from campaign tactics to gun control, Sununu clashed with the other two, repeatedly deeming President Barack Obama "a wuss."
Sununu said the debates and arguments should be based on the issues but that, instead, Team Obama's strategy is to destroy Mitt Romney in what amounts to a character assassination. Morgan argued it's been ugly on both sides, that Romney can't claim moral high ground, but Sununu begged to differ. "They may have fought fiercely," he said, but they were talking about policy and issues.
The election will be a referendum on Obama's first term, Sununu insisted. Deeming Obama "a wuss," he then rattled off a list of things Obama hasn't done, such as pass a budget. Rendell chimed in regarding the campaign tactics and said that negative ads continue because they do work.
Morgan then pivoted to gun control and both candidates' silence on the issue. The people want something to be done, he said, so why isn't anyone doing anything? "Because politicians underestimate the intelligence and the reasonableness of the people," Rendell said. The reason neither Obama nor Romney are talking about the issue, Sununu said, is because they understand that the issue people really want to discuss is the economy.
As Morgan exclaimed that doing nothing is not an option (given the shootings within the past year), the three clashed over whether action is necessary and whether additional gun laws would change anything.
With the segment coming to a close, Sununu reiterated, "President Obama has failed because he really is a wuss."
Take a look, via CNN:

Have a tip we should know? tips@mediaite.com