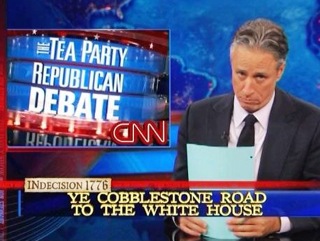 With the biggest story of the past 24 hours undeniably being the sparks flying at last night's CNN/Tea Party debate, Jon Stewart gave the event his Top Story treatment, spanning the ridiculously long introductions, the team attack on Rick Perry, and the strange case of the audience cheering for the death of the uninsured.
Stewart opened up with a pretty sharp joke that, in retrospect, shouldn't have been surprising: "last night, an incompetent bunch of yahoos was finally granted legitimacy– by pairing up with the Tea Party." Introducing the new Presidential campaign segment "Indecision 1776, Ye Cobblestone Road to the White House," Stewart spent a fair amount of time on the CNN introductions– which themselves seem to take a little too long. "Oh for f*ck's sake, come on. We get it. Everyone there loves America," Stewart exclaimed, joking that the set itself looked like "the inside of Betsy Ross's vagina… I'm told."
Finally, once the anthem had been sung and the introductions said and the "Americagasm" was on its way, where every Republican got together to "deliver a beatdown to this one other Republican." The lucky fellow was, of course, the Texas governor, whose folksy accent didn't fool Stewart. Picking up on a quote where Perry suggested America needed to "bring the troops home… but we need a presence there," Stewart joked that the accent was so good, "you're already halfway home when you realize, 'that didn't make any f*cking sense.'" "We gotta leave, but I don't think anyone would argue we should stay," he mocked.
But the candidates were only half of the story, as Stewart turned to the crowd. "Freedom is risky, yay!" he mocked them, as they cheered Rep. Ron Paul's point that the freedom to take risks such as not having health care was essential. Then they cheered "yes!" to letting an uninsured person die, to which Stewart responded, "I don't think everyone in the audience shouting 'yes!' heard Dr. Paul say 'no.'"
The segments via Comedy Central below:
Part 1:
Part 2:
Have a tip we should know? tips@mediaite.com