Jon Stewart Tears Apart ABC's Brian Ross For False Tea Party Report On Aurora Shooter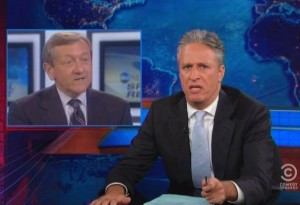 Jon Stewart opened his show tonight by talking about last Friday's shooting in Aurora, Colorado, and said that it was a complex issue with a variety of different factors involved that should be talked about. He contrasted that assessment with how individuals in the media have been saying it's completely inappropriate to talk about gun control following the tragedy, and also took time to slam ABC News' Brian Ross for his false report on the shooter's tea party ties. Stewart was amazed at how Ross didn't get disciplined by the network.
RELATED: O'Reilly And Bernie Goldberg Tear Into ABC's Brian Ross For Tea Party-Colorado Shooting Report
He contrasted the laissez-faire attitude about the gun argument with all the airport security measures taken ten years after 9/11, and made a comparison between gun control and the desire of some not to talk about it.
"You're telling me that to discuss the epidemic of gun violence in this country, for that, there is a waiting period. Yeah, I guess you'd hate to go into a conversation about guns all hot-headed and say something impulsive you'll never be able to take back."
Stewart then mocked Ross for not only thinking a killer's tea party ties would be significant news, but for getting the entire thing wrong in the first place. He mocked Ross for not profusely apologizing to the innocent man he erroneously claimed, and questioned why someone's tea party ties would be relevant. He said that what Ross did was the journalistic equivalent of searching "James Holmes Aurora" on Google and clicking the "I'm Feeling Lazy" button.
Stewart couldn't believe how Ross hasn't been suspended, or at least disciplined for the glaring error.
Watch the segment below, courtesy of Comedy Central:
—–
Follow Josh Feldman on Twitter: @feldmaniac
Have a tip we should know? tips@mediaite.com
Josh Feldman - Senior Editor