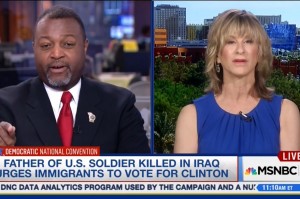 Things got heated on Saturday morning's edition of MSNBC's AM Joy, as panelist and combat veteran Malcolm Nance shamed conservative radio host Heidi Harris over her support for Donald Trump. Host Joy Reid was leading a discussion of killed-in-action Muslim soldier Captain Humayun Khan, whose father Khizr Khan gave a powerful speech at the DNC Thursday night. Mr. Khan is currently imploring other Republican leaders to take a moral stand against Donald Trump.
Malcolm Nance was explaining that Donald Trump and his supporters really ought to shut up about Captain Khan, and Harris tried to interrupt to say that she thinks he was a hero, but Nance cut her off:
Heidi Harris: Don't lay that on me. I'm not the person who's denigrating him.

Nance: This family has given more than you will ever give for the rest of your life. I am saying that as a combat veteran. I don't want to hear it.

Harris: Why are you yelling at me> It's not me who is saying bad things about the Khan family.

Joy Reid: The point is you are supporting a candidate for president who has not —

Harris: You got to understand, I'm only supporting Donald Trump because he's the last one left. He's not the person I wanted to be president. I don't want Hillary. That's the only reason I vote for Trump.

Reid: You're still affirmatively supporting a candidate for president who has said that he would do a ban that would have kept the Khan family out of the country.
The fact that Speaker of the House Paul Ryan has openly acknowledged the "textbook racism" of Trump's campaign makes positions like Heidi's, that they're only sort of pregnant with Trump racism, more and more untenable, as this exchange demonstrates.
Have a tip we should know? tips@mediaite.com