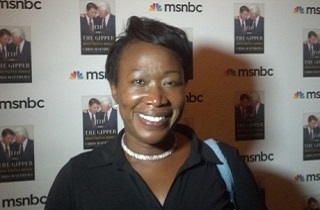 A galaxy of MSNBC stars (minus the primetime hosts who were busy doing their shows) came out Wednesday night to fete Hardball host Chris Matthews and his new book, Tip and the Gipper: When Politics Worked. Matthews and MSNBC President Phil Griffin were loose and in good spirits, and the mood at New York's P.J. Clarke's was generally lifted by the impending end of the government shutdown. As media launch parties go, this one had all the necessities: an open bar, an open bar, and an open bar.
There was an assortment of delectable finger foods, including carpaccio bruschetta with a mild horseradish aioli, fried risotto lollipops, sliders cooked to a perfect medium (medium rare is too much to expect in bulk), and something with salmon on it. The service was excellent, as well, with waitresses who would actually track you down with the drink you ordered five minutes (and three conversations) ago.
The Huffington Post's Mike Calderone was there, as he is at every one  of these things I go to. He's like that summer camp friend you see once a year, only instead of braiding lanyards, we drink. Also in attendance were MSNBC Live host Thomas Roberts and his husband, Patrick Abner, who have just celebrated their one-year wedding anniversary. Among other things, we talked about his recent segment with RNC chairman Reince Priebus, and I promised to email him some split-screens of cable news doppelgangers I've been saving up, but which will be included in this post's slideshow instead. I've only got three, not enough for a full doppelganger post, but they're really good.
Also on hand were MSNBC.com President Richard Wolffe, former Gov. Ed Rendell (D-PA), Salon's Joan Walsh, Martin Bashir host Martin Bashir, Morning Joe regular John Heilemann and his writing partner Mark Halperin (whom I didn't get photo of, but who is included in my mini-doppelganger suite), The Cycle's Ari Melber, and managing editor of TheGrio.com and on-air contributor Joy-Ann Reid, who was also the subject of a tantalizing bit of information from a senior source at the network.
Joy has been a frequent fill-in host this year, and has impressive new media chops, with extensive reporting experience, and a point of view that meshes well with the network's fastest-growing demographic. She's also the subject of copious social media demand that she be given her own show on MSNBC, an idea which I floated in these pages several months ago. Asked "When is Joy Reid getting her own show," a senior MSNBC source replied "Stay tuned."
Here's a slideshow of the event, including the doppelgangers I promised Thomas Roberts:
[imageviewer id=1241]
Have a tip we should know? tips@mediaite.com