Judge Napolitano Slams 'Wrong And Unfair' Law That Would Hold Weapon Makers Liable For Gun Crimes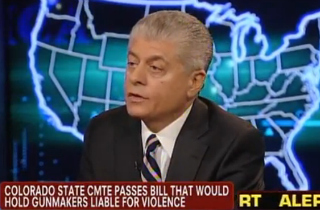 Appearing on America Live today, Judge Andrew Napolitano took on the proposed Colorado law that would impose civil liability on gun manufacturers and sellers for crimes committed with their products.
If it makes it all the way through Colorado's legislature, the bill would become "one of the most dramatic gun laws in the country," host Megyn Kelly said.
Under the proposed law, victims of gun violence would be able to hold gun manufacturers and sellers liable in civil court for the crime perpetrated against them. Napolitano noted that this could lead to a complicated process because some guns get sold multiple times before landing with the final user.
"This is unenforceable," he said, reiterating what several Colorado police officials testified. "You can't possibly impose a burden on D in the line of A, B, C, D."
"Think about it," he continued. "Can we hold General Motors liable because an automobile kills someone, even if it's used recklessly or criminally? Of course not. We don't do that in America. The transferance of liability is basically wrong and unfair."
Kelly likened the proposed legislation to the series of lawsuits in which lawyers "went after Big Tobacco" and held them liable for cigarette smokers' eventual deaths, receiving "big payouts from the tobacco industry." But when lawyers tried to go after gun manufacturers in a similar fashion, she noted, the federal government passed a law in 2005 effectively prohibiting such litigation.
Ultimately, Colorado won't be able to get around that federal statute, Napolitano said, "So I think what Colorado is doing now is either woefully ignorant of federal law or just making a political statement."
He concluded: "This statute will be stopped by a federal judge. If it's not, it will make the ownership of guns so expensive that ordinary people who want to protect themselves won't be able it to afford them and that very act will be unconstitutional. The government can't burden your exercise of your freedoms so the exercise becomes so costly that you're deterred from enjoining that."
Watch below, via Fox:
— —
>> Follow Andrew Kirell (@AndrewKirell) on Twitter
Have a tip we should know? tips@mediaite.com