Judy Woodruff Wonders if 'Compelling' Inequality Issue Will Overtake Obamacare in 2014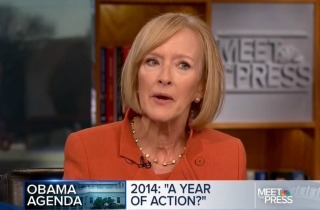 A panel of politicians and commentators on NBC's Meet the Press sized up the political issues that will dominate 2014 heading into the midterm elections on Sunday. The panel largely agreed that the Affordable Care Act is the most pressing issue of the day today, but they were not sure if that dynamic would still be in place by November. PBS anchor Judy Woodruff said that the issue of "inequality" is compelling and could speak to more Americans' lives than the ACA's implementation woes.

NBC News Chief White House Correspondent Chuck Todd began the segment by observing that the Democrats he speaks with are largely overlooking the political problem that the ACA may pose for their party in November. He said that they believe the political problems they face today will fade as the ACA begins to function as it was intended.
RELATED: Joe Scarborough: Where Are Liberals Blasting Obama for Rise of 'Income Inequality?'
Rep. Donna Edwards (D-MD) agreed. "Every single day it gets better for millions of Americans, and that's only a good news story for the administration," she said.
Former GOP strategist Steve Schmidt insisted that, even though the ACA's roll out is improving, the question remains that the program's problems could be structural and not merely cosmetic.
"They have to get health care right. They've got to work on it," Woodruff declared. "But, at the same time, the argument for doing something about the economy, the argument for addressing inequality is such a compelling argument."
She cited a piece in the New York Times by former Obama advisor Steve Rattner who cited a booming Dow Industrial Average which contrasts with how average Americans fared in 2013. She said that wages have not increased on pace with productivity, and that may have political benefits for Democrats.
Watch the clip below via NBC:
[Photo via screen grab ]
— —
> >Follow Noah Rothman (@NoahCRothman) on Twitter
Have a tip we should know? tips@mediaite.com