Justice Antonin Scalia On Fox: 'There Are Some Limitations' On Second Amendment Rights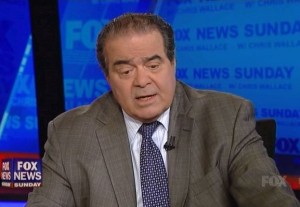 Supreme Court justice Antonin Scalia appeared on Fox News Sunday today to talk about his judicial philosophy and how it influences his decision-making process in the court. One of the issues Chris Wallace brought up was gun control, a debate that was hurriedly revived in the wake of the Colorado shooting. Scalia said that there are limitations on the individual right to keep and bear arms, but the Supreme Court will have to decide what exactly those limitations are.
RELATED: Piers Morgan On Gun Laws: Assault Weapons Not What Founders Had In Mind With 2nd Amendment
Wallace brought up the majority opinion that Scalia wrote in District of Columbia v. Heller, deciding that the Second Amendment grants the individual right to bear arms. Wallace asked the justice "how far" that freedom goes, and if any legislature has the authority to ban semi-automatic weapons or high capacity magazines. Scalia said that the Heller decision left the door open for the Supreme Court to address in a future case what limitations on Second Amendment rights are "permissible."
Scalia acknowledged that there are limitations on those rights, but the court would have to decide what they are. He emphasized the "bear arms" point to say that while owning a gun is perfectly legal, owning a cannon is a different story. However, he noted that there are certainly handheld weapons which can do a fair amount of harm, and said when such a case comes before the court, he would have to make a legal call based on what were understood limitations at the time of the Founders.
Watch the video below, courtesy of Fox News:
Have a tip we should know? tips@mediaite.com
Josh Feldman - Senior Editor